Hello everyone! Here is a recap of our new December 2017 products, and of course, we have our winners below! You can now find these products at www.lawnfawn.com and your favorite stores! Woohoo!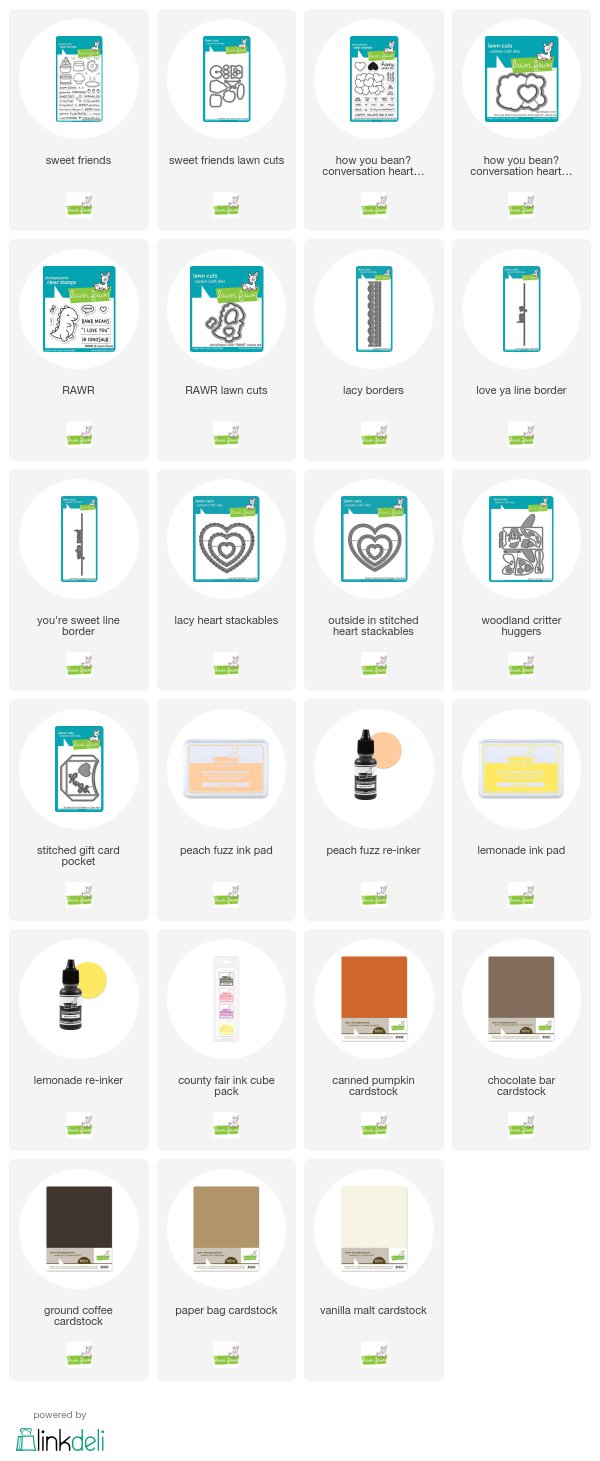 All of our new products are now available! Wooohooo!
🙂
You can find our new products here
at our site
and in your favorite local store, too! Check out our
Store Locator
, and if you don't see your favorite store make sure to let them know about us!
Now, here's a video to introduce
Woodland Critter Huggers
and
Stitched Gift Card Pocket
and show you some fun ways to use this fun new Lawn Cuts die set! I hope you like it! You can watch the video here or at our
YouTube channel
.
Thanks so much for watching!
Deer with hidden message
Fox with Stitched Gift Card Pocket
Owl with the Stitched Gift Card Pocket and Sweet Friends
Raccoon
Squirrel
Chipmunk
And now for our winners ….. parrrrrrummmmmmm …… (that's a drum roll 🙂 ) ……..
Big Giveaway Winner #1 is…Queenie Jeannie!
Big Giveaway Winner #2 is…Amanda Dellamano!
Big Giveaway Winner #3 is…Mindy Eggen!
Sweet Friends Winner is…Cheryl Samdal
How You Bean? Conversation Heart Add-On Winner is…Cynthia Baldwin!
RAWR Winner is…Rianna!
Lacy Borders Winner is…Olya Pershina!
Woodland Critter Huggers Winner is…Debra Rumpza

Please email us at fawnies(at)lawnfawn(dot)com with your name, mailing address and which prize you won!
Erica, Mike and I wanted to thank you all for all of your enthusiasm this week! It has been amazing, and it means more than we could ever say! We loved reading all of your comments and getting to learn a little bit more about you! Thank you so much for being so amazing!!!!
You guys are the best!!!! BIG BIG hugs and lots of love to you all! We can't wait to see what you create!
Thank you so much for visiting!
Have an amazing day,