Hello and welcome to Lawn Fawn's Summer 2018 Inspiration and Release week! On May 17th our 11 new stamp sets and their coordinating dies and 20 new stand alone die sets will be for sale at your favorite store and at www.lawnfawn.com! Woohoo!
We already have six places you can leave comments to win:
Our Big Giveaway Post!!
Our Coaster Critters, Coaster Critters Slide on Over Add-On, Bunting Borders post!!
Our Reveal Wheel post!!
Our You Are Sublime, Lift the Flap Circles, Porthole Frames post!!
Our Critter Concert, Little Music Note post!!
Our Manatee-rific, Stitched Wave Borders post!!
AND today's post too!
Today is our showcase of Shadow Box Card Ocean Add-On and Shadow Box Card Theater Add-On! Use the Ocean Add-on with Shadow Box Card to create a cool ocean-themed card with lots of wow-factor. This set includes ocean wave panels, a stitched scalloped window, a wavy sentiment banner, a cute whale, and ocean accessories. The Theater Add-On set includes curtains, stars, and other accessories to create a show-stopping theater-inspired look to the Shadow Box Card!
The design team has made the most amazing samples! We also have a video at the end showcasing some fun ways of using these new sets! Remember to click on the person's name to see all of the details and leave these wonderful DT girls some comment love!
Kay's whimsical underwater scene combines You Are Sublime with Shadow Box Card Ocean Add-On! I love that she featured the happy lobster!
Our musical critters from Critter Concert have taken the stage in Elena's wonderful Shadow Box Card Theater Add-On! I love the dramatic red curtains, they add a formal look to the "stage"!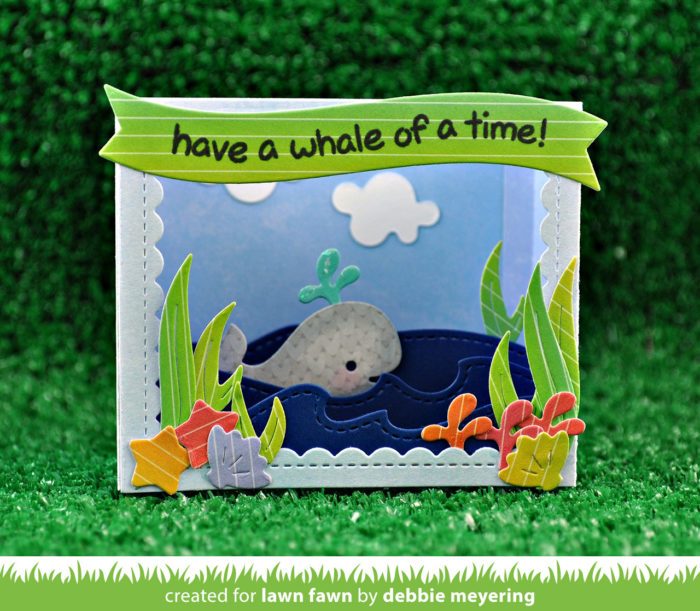 I love how Debbie die cut the whale, shells and seaweed from Really Rainbow and Knit Picky paper! It adds lots of cute texture to her adorable Shadow Box Card! She used a sentiment from an older set, Critters in the Sea!
I love how Elise added the planet and rocket from Out of this World to her adorable Shadow Box Card with the Theater Add-On! Knock on Wood paper is perfect for the "stage" and she included a sentiment from How You Bean? Star Add-On! So clever!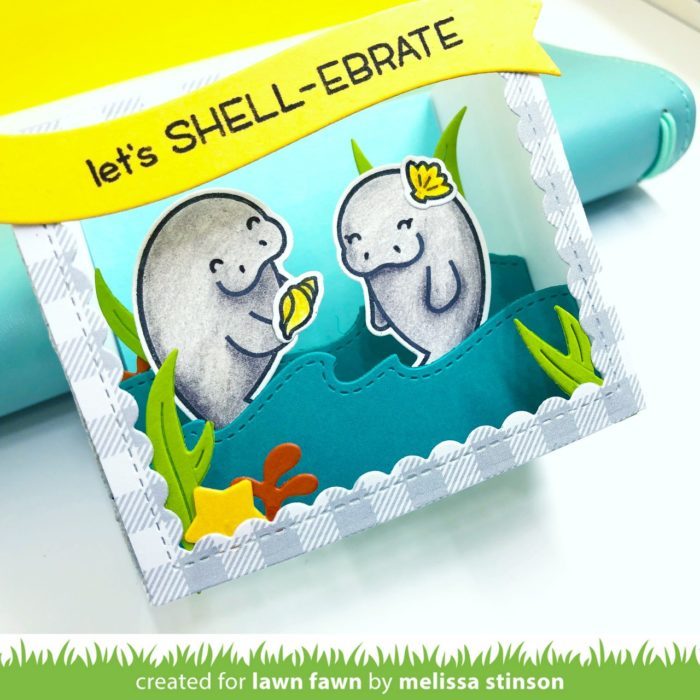 The cute manatee couple look adorable as the stars of Melissa's bright and colorful Shadow Box Card Ocean Add-On design!
There's an awesome Critter Concert happening in Lizzy's Shadow Box Card Theater Add-On!
The adorable deep sea fish from You Are Sublime look right at home in Yainea's fabulous box card design! I love the fun stripes she added to the Shadow Box Card Ocean Add-On frame!
I love how Latisha used the Shadow Box Card Theater Add-On curtains and stars to frame our violin playing owl from Critter Concert!
Audrey's ocean shadow box scene combines fun elements from Hello Sunshine, Life is Good and of course our cute shark from Duh-nuh!
Chari's theater design looks adorable even without the 3D element! I love how she die cut the curtains from pretty aqua colored felt! The perfect sentiment on the Bannertastic banner is from Lucky Stars!
Lynnette used the fun dies in the Ocean Add-On set to create a fun panel for a card! Really Rainbow paper coordinates with the bright colors of the die cuts!
Nicole's sweet ocean design features a mermaid and her friendly narwhal from Mermaid for You!
And now I have a video to introduce Shadow Box Card Ocean Add-On and Shadow Box Card Theater Add-On and show some fun ways to use them! You can watch the video below or click HERE to watch it at our YouTube channel. I hope you enjoy it!
Thank you so much for watching!
I hope you have enjoyed this look at Shadow Box Card Ocean Add-On and Shadow Box Card Theater Add-On! Tomorrow we have another fun set to show you! For now, though, it's giveaway time! Leave us a comment on this post by May 16th at 5:00pm ET, and we will randomly pick one winner for one of these die sets! (If you already own this set and win, you can choose another set!) Make sure to come back tomorrow, Wednesday May 16th for our next inspiration week post!
Thank you so much for all of your excitement for our inspiration and release week! Your comments, tweets, Facebook, Instagram and YouTube messages mean so much to us! Every one puts a big smile on our faces! We think Lawn Fawn fans are the best in the world. We love you guys!