Hello and welcome to Lawn Fawn's Summer 2019 Inspiration and Release week! On May 16th our 10 new stamp sets and coordinating dies and 24 new standalone die sets will be for sale at your favorite store and at www.lawnfawn.com! Woohoo!
We already have seven places you can leave comments to win:
Our Big Giveaway Post!
Our On the Beach; Hammock and Trees Post!
Our Center Picture Window Card Post!
Our Keep on Swimming Post!
Our Say What? Pets, Critter Chatter: Pets, Speech Bubble Backdrops post!
Our Peacock Before 'n Afters post!
Our Smooth Sailing post!
AND today's post too!
Today is our showcase of Tropical Backdrop, Sandy Beach Accents, Palm Tree Border, Sunrise Backdrop and Sunray Backdrop! Make a fun tropical scene with this backdrop die. Layer the included palm trees on top to complete the look! The stitched sandy hills of the Sandy Beach Accents work great as decorative accents to create your own beach. Use the larger ones to tuck seashells or palm trees into your scene! The Palm Tree Border is great for creating a tropical or beachy scene, filled with palm trees! The Sunray Backdrop and Sunrise Backdrop add a bold design to your summertime cards and crafty projects!
The design team has made the most amazing samples! We also have two videos at the end showcasing some creative ways of using these fun new sets!
Lynnette used the fun palm trees in the Tropical Backdrop to frame her colorful On the Beach scene! I love how she added Stitched Wave Borders and the two-part sentiment using a Simple Wavy Banner!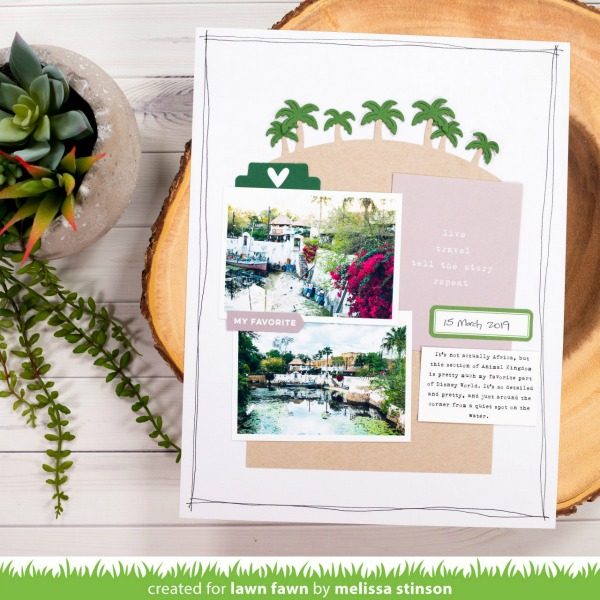 I love how Melissa S used the Palm Tree Border to give her gorgeous scrapbook page a cool tropical look! She used kraft cardstock for the sand and tree trunks and added Cilantro palm leaves! They frame the top of the layout beautifully!
Kay's awesome card combines Sunrise Backdrop with Tropical Backdrop and Happy Summer Line Border to create a super fun no-stamp design! I just love the bright, bold, summery colors she used!
Megan's Ahoy Matey scene gets kicked up a notch with the Tropical Backdrop and Stitched Simple Wavy Borders waves in the background!
Elena's Father's Day card is so whimsical and fun! I love how she has the On the Beach "papa" bear lounging in a hammock between the Tropical Backdrop palm trees with the brilliant Sunrise Backdrop adding a soft glow! How cute is the Smooth Sailing critter as the cute baby bear?!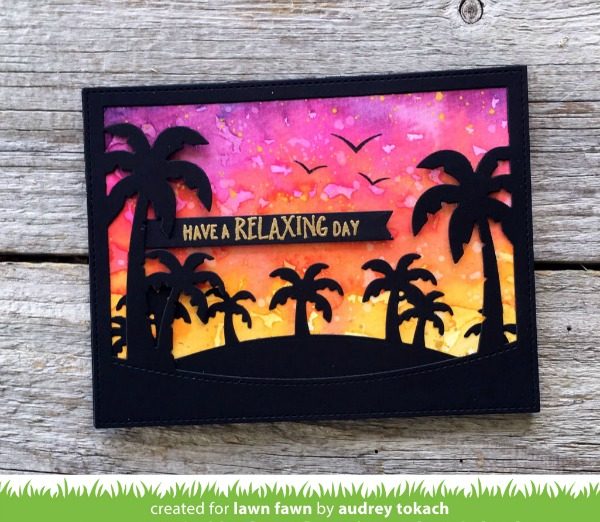 Audrey's stunning card reminds me of awesome sunsets in Hawaii! Her amazing sunset sky is perfect with the Tropical Backdrop and Palm Tree Border silhouettes! I love how she embossed the On the Beach sentiment in gold, wow so cool!
I love this sweet thank you card by Latisha! The mix of Spring Fling papers along with Tropical Backdrop and Palm Tree Border is so beautiful! She added the Wavy Sayings sentiment on a Fancy Wavy Banner!
Elise's card is filled with an awesome beachy vibe! She built the ocean scene using Tropical Backdrop, Stitched Simple Wavy Borders and the beautifully ink-blended Sunrise Backdrop! I love how she inlaid all the pieces! To finish her card she added the cute critters and boat from Smooth Sailing! That cute scripty hi is found in our new Outside In Stitched Speech Bubbles die set!
Lynnette's sunny card with Sunray Backdrop layered over Really Rainbow Scallops could not be happier! She added some Simple Puffy Clouds and the Happy Summer Line Border along with the sweet smiley face from Make Me Smile to finish wonderful day brightener!
How cool is Melissa's gorgeous card? I love how she die cut the Tropical Backdrop from black glitter paper and contrasted it with all the amazing colors of the sunset using the Sunrise Backdrop!
Now, I have a video for you introducing Sunrise Backdrop and Sunray Backdrop sharing some fun things you can do with this set. I hope you enjoy it! Watch it below or click HERE to watch it at our You Tube channel.
Thank you so much for watching!
And now, I have a video for you to introduce Tropical Backdrop, Palm Tree Border and Sandy Beach Accents and share some fun things you can do with these sets. I hope you enjoy it! Watch it below or click HERE to watch it at our You Tube channel.
Thank you for watching!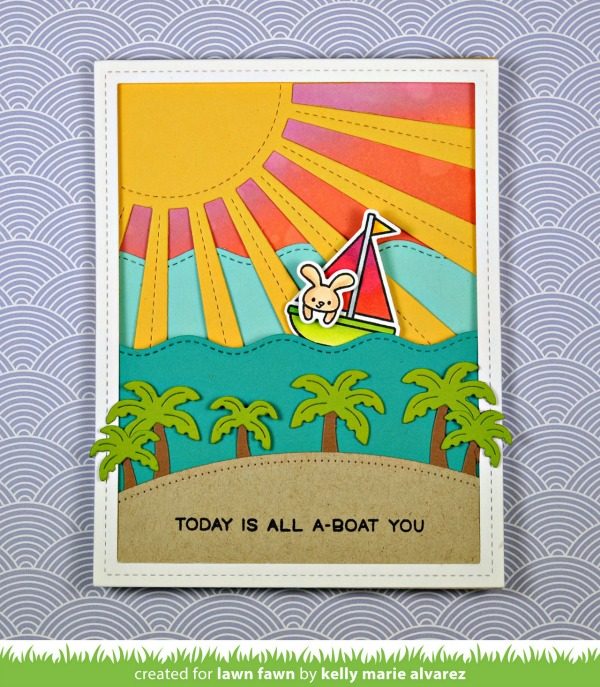 I love how Chari used the Sandy Beach Accents to "bury" the treasure and the treasure map! Such a fun Ahoy Matey pirate scene!
I hope you have enjoyed this look at Tropical Backdrop, Sandy Beach Accents, Palm Tree Border, Sunrise Backdrop and Sunray Backdrop! Tomorrow we have another fun set to show you! For now, though, it's giveaway time! Leave us a comment telling us where you would go on a dream tropical vacation by TODAY May 15th at 5:00pm ET, and we will randomly pick one winner for this set! (If you already own this set and win, you can choose another set!) Make sure to come back tomorrow, Thursday May 16th for our Release Reveal and Giveaway Winner announcement!
Thank you so much for all of your excitement for our inspiration and release week! Your comments, tweets, Facebook, Instagram and YouTube messages mean so much to us! Every one puts a big smile on our faces! We think Lawn Fawn fans are the best in the world. We love you guys!
Supplies:
Summer 2019 products will be available May 16th
Tropical Backdrop
Sandy Beach Accents
Palm Tree Border
Sunrise Backdrop
Sunray Backdrop
Smooth Sailing + coordinating dies
On the Beach + coordinating dies
Say What? Pets + coordinating dies
Stitched Simple Wavy Borders

Thanks for visiting!
Have an amazing day!