Here we have a little recap of the October Inspiration Week featured products, and, of course, we have our Winners below! We will have lots of fun posts and videos throughout the rest of the month and then in November we have another amazing Fawny Holiday Week planned for you!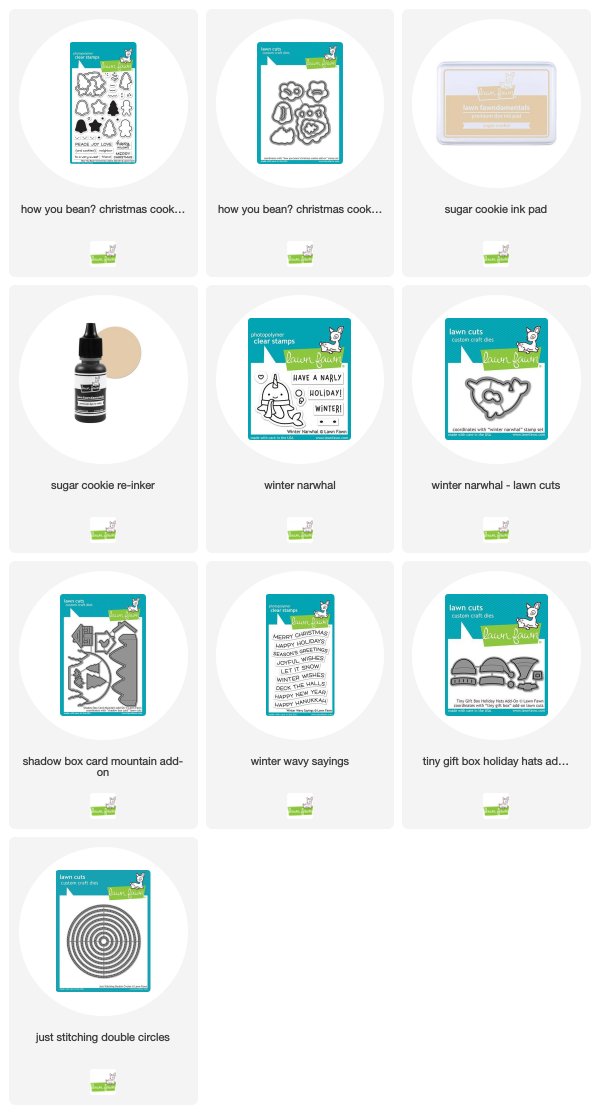 You can find our Fall/Winter 2019 products at our online shop and in your favorite local stores, too! Check out the list HERE, and if you don't see your favorite store make sure to let them know about us!
Here's a little bonus inspiration for you from Megan! She used How You Bean? and the Shaker Add-On to make an adorable cookie jar for the Christmas Cookie Add-On cookies! She brought in some cuteness from Sprinkled with Joy and Christmas Fishes to fill out her amazing Christmas cookie baking scene!
And now for our winners ….. parrrrrrummmmmmm …… (that's a drum roll) ……..
The winner of their choice of 6 Fall/Winter 2019 Stamp sets is…Amelia S!
The winner of their choice of 4 Fall/Winter 2019 stand alone die sets is…Helen L!
The winner of How You Bean? Christmas Cookie Add-On is…Erin Boelkens!
The winner of Winter Narwhal is…Leisha Moore!
The winner of Shadow Box Card Mountain Add-On is…Susan McRae!
The winner of Winter Wavy Sayings/Tiny Gift Box Holiday Hats Add-On is… Olga Pershina !
The winner of Just Stitching Double Circles is…Carrie!
Please email us at fawnies(at)lawnfawn(dot)com with your name, mailing address and which prize you won!
Erica, Mike and I wanted to thank you all for all of your enthusiasm this week! It has been amazing, and it means more than we could ever say! We loved reading all of your comments and getting to learn a little bit more about you! Thank you so much for being so amazing!!!!
Supplies:

Thanks for visiting!
Have an amazing day!