It's almost time for October Inspiration Week! We will be highlighting more of our Fall/Winter 2019 Release with amazing Design Team Inspiration and lots of Giveaways! Join us for the Big Giveaway on Friday!
Today Elena shares some great ideas to help make your Thanksgiving gathering special!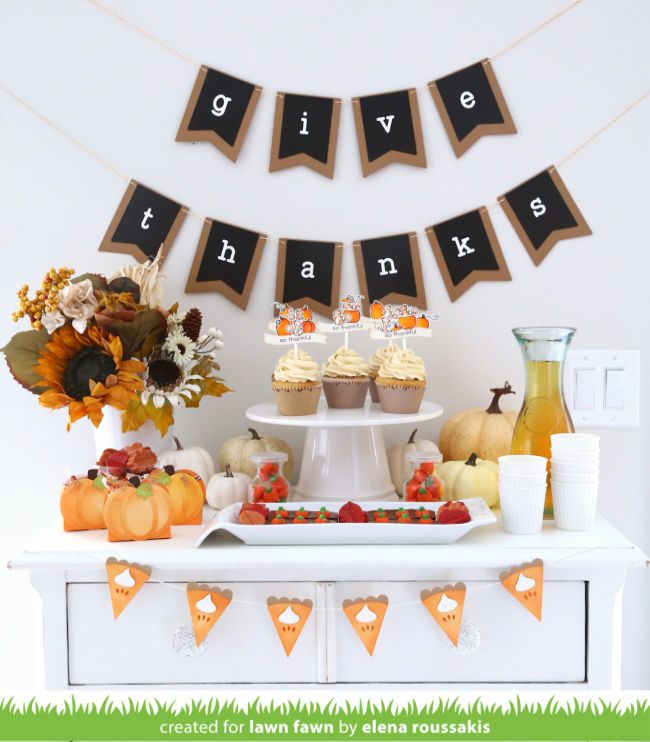 As always, Elena's Thanksgiving decor is filled with clever ideas that you can use to make your holiday a very special occasion!
The "pie banner" is so much fun! Elena used the Cake Slice Box Pie Add-On to create this unique party decoration! She cut the "slices" from Spiffy Speckles Ripe Banana paper, then blended on Fake Tan ink for a fun, dimensional speckled look!
The adorable squirrels from Pick of the Patch are the stars of the cupcake toppers! Elena assembled adorable little vignettes to attach to the Simple Wavy Banners! The sweet sentiment is from Forest Feast!
The treat boxes are a shortened version of our Goodie Bag! Elena used partial die cutting to cut the Goodie Bag to fit the Outside In Stitched Pumpkin and Stitched Pumpkin Frame design for the outside! Again she used Spiffy Speckles Ripe Banana inked with Fake Tan! They look so adorable filled with caramel kisses!
Elena created a simple but beautiful banner to set the theme for the gathering! She layered Stitched Party Banners in Paper Bag and Black Licorice cardstock then added the Louie's ABCs letters in white before stringing the banners on some Tangerine cord!
Thank you so much for sharing these delightful Thanksgiving decoration ideas with us, Elena!
Supplies:

Thanks for visiting!
Have an amazing day!