Hello and welcome to Lawn Fawn's March 2020 Inspiration Week! Our Spring 2020 Release is available at your favorite store and www.lawnfawn.com! Woohoo!
We already have two places you can leave comments to win:
Our big giveaway post!
Our Swan Soirée, Stitched Pond Frame and Cattails Border post!
AND today's post too!
Today is our showcase of Super Star and its coordinating dies! You'll be crafting all night with this stellar stamp set! This cute mouse and telescope is great for creating starry night scenes. It's perfect for birthdays, Mother's and Father's Day, and congratulations cards.
The design team has made the most amazing samples! We also have a video at the end showcasing some fun ways of using this new set! Remember to click on the person's name to see all of the details and leave these wonderful DT girls some comment love!
Elise incorporated a fun slider element to create a shooting star! This is such a fun idea for the Super Star set! She used the Grassy Hillside Stencils to add the cute hill to the scene!
Grace used Super Star to make an adorable pair of star-shaped cards! I love how she layered the Outside In Stitched Star Stackables and Stitched Star Frames in pretty Shimmer cardstock!
Grace finished the cute Super Star sentiment on the inside of her star-shaped cards!
Latisha's clever scrapbook layout for her son's graduation is so fantastic! I love how the little mouse is checking out the "super star" through the telescope! She used Oliver's Stitched ABCs for the title and Bunting Borders to add a festive look!
For her adorable Super Star card, Elena swapped out the cute mice for some Butterfly Kisses and Eggstra Amazing Easter critters! She used Grassy and Grassy Hillside stencils to create the amazing background!
Lynnette's Super Star card is so adorable! I love that she used the Luna pattern from Hello Sunshine Remix and a Puffy Star cut out on the Stitched Square!
Marine created a whimsical Magic Iris card using Super Star and some mice from Dandy Day! She included some cute accessories from Beary Happy Holidays for hanging the stars and the fluffy clouds from Yay, Kites!
Melissa used a combination of Super Star, Jessie's ABCs and Oliver's Stitched ABCs to add fun details to her Star Wars themed memory page!
I just adore this Super Star card by Audrey! That background is so amazing! The clouds from Meadow Backdrop: Portrait are such a fun layer on the Puffy Cloud Border!
Chari's bright and happy Super Star design features a glittery hillside created with glitter paste and the Hillside Stencils. She layered Hello Sunshine Remix papers with a stamped card base!
Nichol's Super Star design features the Magic Iris and some fantastic no-line coloring! How cute are the critters from Keep on Swimming and You're Just My Type in this adorable starry scene!
Elise changed things up a bit and used a sentiment and the stars from Super Star to make fun, clean and simple card! I love how she used Oliver's Stitched ABCs to create the custom greeting!
With a gorgeous inky sky and cute critters from Dandy Day, Tammy's starry design makes me smile! I love the white heat-embossed stars and constellations!
Megan's Double Slider Surprise design is a star-filled delight! The Snowy Backdrop adds stars to the card base! She used Grassy Hillside Stencils to build the scenery the cast of cute mice! She assembled cuties from Really High Five, Super Star, Dandy Day and You're Just My Type! I love the little mouse at the top catching a shooting star in the Butterfly Kisses butterfly net!
Yainea's beautiful Super Star card features a custom greeting with Oliver's Stitched ABCs and an awesome watercolor background!
Latisha's card is so cool! I love how she created the galaxy in blues and purples and just added a strip of it to the Storm Cloud card base! This is truly a clean and simple beauty!
Elena's Magic Iris card features scenery created with the Meadow Backdrop: Portrait and a beautifully ink blended night sky! The sentiment from Super Star makes a bold statement when the Magic Iris is opened!
Chari's sweet card shines with Hello Sunshine Remix and Spring Sparkle cardstock! The sentiment is white embossed on Narwhal cardstock then the outline letters were filled in with Glitter Pen!
Lots of mouse hijinks on Tammy's adorable Magic Iris card! I love how the iris opens in the How You Bean? jar to reveal a whole bunch of stars from the How You Bean? Star Add-On set!
Lynnette framed her sweet Super Star scene with a bright Sunflower yellow Stitched Scalloped Rectangle Frame!
Now, I have a little video to introduce Super Star and show some fun ways to use this starry new set. I hope you enjoy it! You can watch it below or click HERE to watch at our YouTube channel.
Thanks so much for watching!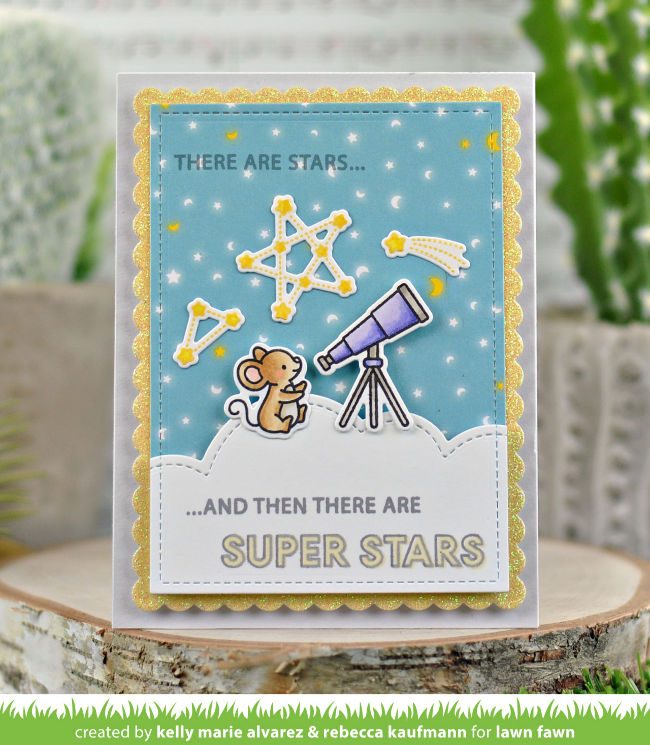 I hope you have enjoyed this look at Super Star! Tomorrow we have another fun set to show you! For now, though, it's giveaway time! Leave us a comment telling us your favorite place to observe the stars by March 18th at 5:00pm ET, and we will randomly pick one winner for this set! (If you already own this set and win, you can choose another set!) Make sure to come back tomorrow, Saturday March 14th for our next inspiration week post!
Thank you so much for all of your excitement for our inspiration week, we love your comments, tweets, Facebook, Instagram and YouTube messages! Every one puts a big smile on our faces! We think Lawn Fawn fans are the best in the world. We love you guys!
Supplies:

Thanks for visiting!
Have an amazing day!