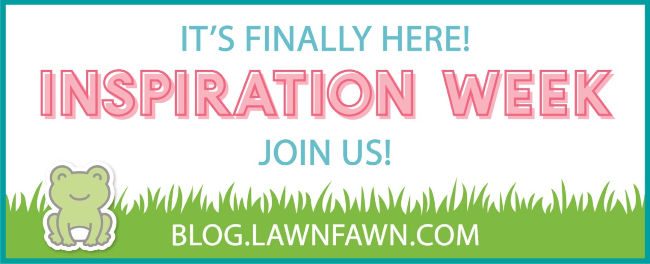 Hello and welcome to Lawn Fawn's April 2020 Inspiration Week! Our Spring 2020 Release is available at your favorite store and www.lawnfawn.com! Woohoo!
We already have one place you can leave comments to win:
Our big giveaway post!
AND today's post too!
Today is our showcase of Outside In Stitched Balloon Stackables and Stitched Balloon Frames! These balloon-shaped stackables have a cute "stitched" border detail on the outside and inside edges. This versatile die set will create a stitched shape and a stitched opening as well! These balloon-shaped frames coordinate with Outside In Stitched Stackables, and are perfect for shakers and fun party-themed projects! Cut "confetti" from different colored cardstock and add it to the shaker!
We hope to have intro videos to show some fun ways of using these new sets soon. Thanks for understanding, we appreciate your patience.
The design team has made the most amazing samples! Remember to click on the person's name to see all of the details and leave these wonderful DT girls some comment love!
Balloons are the quintessential birthday decoration and Elise used our Outside In Stitched Balloon Stackables to create a super fun birthday card! She cut the balloons from Spiffy Speckles paper and the balloon strings from Pixie Dust Sparkle cardstock! For the background she inked up some beautiful clouds using the Cloudy Stencil!
For the birthday sentiment, Elise combined Happy Happy Happy with the Family Add-On set! I love these fonts together!
Megan created an adorable hot air balloon shaker by combining Outside In Stitched Balloon Stackables and Stitched Balloon Frames with the basket from Eggstra Amazing Easter! She added some cute little critters from Smooth Sailing!
I love Grace used vellum with the Stitched Balloon Frame to highlight the sweet sentiment on her gorgeous card! The fun critters from Really High Five are bringing lots of smiles! How awesome is that colorful sky?!
Tammy created a fantastic horizontal slim line design with colorful balloons, puffy stenciled clouds and those happy Really High Five cuties!
Melissa decorated a birthday memory page in her planner with balloons die cut from tropical Shimmer cardstock and a Hello Sunshine Remix pattern! The Reveal Wheel Circle Sentiments greeting fits in the circle perfectly!
Lynnette's delight birthday card features a shaker balloon filled with colorful confetti from the Stitched Balloon Frames set! I love how the Don't Worry, Be Hoppy cuties are arranged on the top of the balloon!
Audrey's beautiful birthday design includes clouds from the Meadow Backdrop: Portrait set and a pretty frame of Really Rainbow paper! Did you know that those "cloud" shapes can also be bushes to fill in meadow scenes?
Chari used a pretty pink and aqua color combo for her adorable confetti-filled shaker balloon! The Dandy Day paper looks so pretty in the background!
Yainea stenciled clouds in colors to coordinate the beautiful shaker balloons! Such a gorgeous birthday card design!
Latisha's birthday shaker card features papers from Hello Sunshine Remix! The Oliver's Stitched 123s number 5 is the perfect way to personalize this festive card to celebrate a child!
The Stitched Balloon Frames work like "magic" with the Magic Iris to conceal a Happy Birthday message! Grace combined cheerful cardstock colors with Hello Sunshine Remix patterns and a greeting from Reveal Wheel Circle Sentiments!
I love the beautiful dark blue clouds that Tammy used behind the bright Shimmer cardstock balloons on her fabulous tall card design! The Really High Five critters are so happy to celebrate a birthday!
For her adorable birthday scene, Elena brought in a cute duck from Rub-A-Dub-Dub and a happy mouse from Dandy Day! I love how she colored the Reveal Wheel Circle Sentiments greeting inside the shaker balloon!


I hope you have enjoyed this look at Outside In Stitched Balloon Stackables and Stitched Balloon Frames! Tomorrow we have another fun set to show you! For now, though, it's giveaway time! Leave us a comment telling us how you are sharing birthday smiles by April 15th at 5:00pm ET, and we will randomly pick one winner for this set! (If you already own this set and win, you can choose another set!) Make sure to come back tomorrow, Sunday April 12th for our next inspiration week post!
Thank you so much for all of your excitement for our inspiration week, we love your comments, tweets, Facebook, Instagram and YouTube messages! Every one puts a big smile on our faces! We think Lawn Fawn fans are the best in the world. We love you guys!
Supplies:

Thanks for visiting!
Have an amazing day!