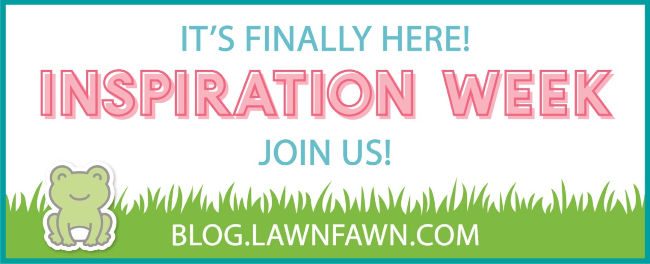 Hello and welcome to Lawn Fawn's April 2020 Inspiration Week! Our Spring 2020 Release is available at your favorite store and www.lawnfawn.com! Woohoo!
We already have two places you can leave comments to win:
Our big giveaway post!
Outside In Stitched Balloon Stackables and Stitched Balloon Frames post!
AND today's post too!
Today is our showcase of Year Ten! This mini stamp set is truly on point! This happy cactus was created to celebrate Lawn Fawn's tenth birthday. Yay! For more face options, check out Reveal Wheel Circle Sentiments.
We hope to have intro videos to show some fun ways of using this new set soon. Thanks for understanding, we appreciate your patience.
The design team has made the most amazing samples! Remember to click on the person's name to see all of the details and leave these wonderful DT girls some comment love!
Grace used our cheery Year Ten cactus to create this fun card and tag set!
Our happy little cactus looks so cute on this Say What? Gift Tag shaker!
I love how Grace made a pretty window using Shadow Box Card Park Add-On! How clever is the heart garland made to resemble the pattern in the Hello Sunshine Remix paper!
Marine used the Year Ten cactus to make a Magic Picture Changer with a fun South West theme! I love how she added fun color to the top of the card with the Blue Skies banner!
These Year Ten cacti invited the cute llama from Llama Tell You to their festive birthday party! I love how Lynnette used the Stitched Hillside Border to arrange all the cactus on different levels!
Ivy made a cool grid design for her adorable Year Ten cuties using Foursquare Backdrop: Landscape! The colors are so happy and googly eyes always make anything more fun!
Audrey's super cute birthday card features a mix of fun patterns from the Hello Sunshine Remix collection! The birthday greeting is from Really High Five!
The cute little cactus from Year Ten is the perfect size to add to a scrapbook layout! Melissa added some fun photos to her planner along with sunny 6×6 papers! Oliver's Stitched ABCs are great for adding titles!
Latisha's clean and simple design is so adorable! She simply stamped the cactus in different colors of green ink and added some pink accents! I love this color combo!
Elena's coloring and great little added details make this birthday card so special! She included the flower wreath from Swan Soirée and the cake from Beam Me Up! She used a Reverse Stitched Scalloped Circle Window to frame the little vignette!
Festive colors, Foursquare Backdrop: Landscape and party accessories from Party Animal combine on Chari's super cute Year Ten card! She added a greeting from Offset Sayings: Birthday on a Simple Wavy Banner as the perfect finish!
Elise gave her fun birthday card a special touch by coloring the pots in rainbow colors! I love the sentiment white embossed on Black Licorice cardstock!
Megan's design is simple but eye-catching! Create multiples by switching up the colors! She used Stitched Woodgrain Backdrop as the "ground" and Spiffy Speckles paper in the background! She die cut a speech bubble from coordinating cardstock to add the sentiment!
Tammy's awesome ink blended background sets the scene for a group of happy Year Ten cacti! I love how she colored the cactus to have a rounded look!
Grace's Magic Iris design is so happy! I love how she layered the Rooftop Border scalloped die in Shimmer cardstock, it's such a great detail! This cute cactus is sending Scripty Hugs and blooming with color!
Yainea's birthday card has some colorful wow factor! She used the Hillside Stencils to blend cool ink colors in the background then she added the cute cactus and sentiment on an Outside In Stitched Scalloped Rectangle! The little stitched heart is a sweet addition!
A simple background with Sunrise Backdrop is perfect for the cute cactus and some birthday balloons! I love this idea of a bristly cactus holding balloons!
I hope you have enjoyed this look at Year Ten! Tomorrow we have another fun set to show you! For now, though, it's giveaway time! Leave us a comment telling us how you and your "quaranteam" are keeping busy by April 15th at 5:00pm ET, and we will randomly pick one winner for this set! (If you already own this set and win, you can choose another set!) Make sure to come back tomorrow, Monday April 13th for our next inspiration week post!
Thank you so much for all of your excitement for our inspiration week, we love your comments, tweets, Facebook, Instagram and YouTube messages! Every one puts a big smile on our faces! We think Lawn Fawn fans are the best in the world. We love you guys!
Supplies:

Thanks for visiting!
Have an amazing day!