Hello and welcome to Lawn Fawn's April Inspiration Week! Our Spring 2022 Release with 14 new stamp sets, 24 new die sets, 4 new stencil sets, new paper collections, new cardstock and more new products are now available at your favorite store and www.lawnfawn.com! Woohoo! This week we will continue to showcase these new products with design team projects, intro videos, and giveaways!
Daily Giveaway
We already have three places you can leave comments to win:
Big giveaway post!!
Outside In Stitched Strawberry, Stitched Strawberry Frame & Reveal Wheel Strawberry Add-On post!
Tiny Gift Box Goat and Llama Add-On post!
AND today's post too!
Introducing!
Today is our showcase of Year Eleven and Year Twelve and their coordinating die sets! We didn't planet to forget our birthday last year…Year Eleven celebrates Lawn Fawn's eleventh birthday (and those birthdays we sometimes space out about…)! And aparrotly it's our 12th birthday! We created this cute stamp set to celebrate Lawn Fawn's twelfth birthday! Woohoo!

Design Team Inspiration
The design team has made the most amazing samples! We also have 2 videos at the end showcasing some fun ways of using these adorable new birthday sets! Remember to click on the person's name to see all of the details and leave these wonderful DT girls some comment love!


Elena's sweet Year Eleven design sends belated birthday greetings with the help of Out of This World! I love how embraced the white space around the cool galaxy background!


Aparrotly, Year Twelve is a perfect companion with Ahoy Matey! Tammy created a Platform Pop-Up to look like a pirate ship for her super creative birthday card!


Marine took the sting out of sending belated wishes with this amazing Magic Iris design! All the cheerful color and great added details like the Just Stitching Double Circles framing the iris make this a truly special birthday card!


Latisha's Year Twelve card is so fun with its clean and simple grid design! I love how she matched the ink and cardstock colors!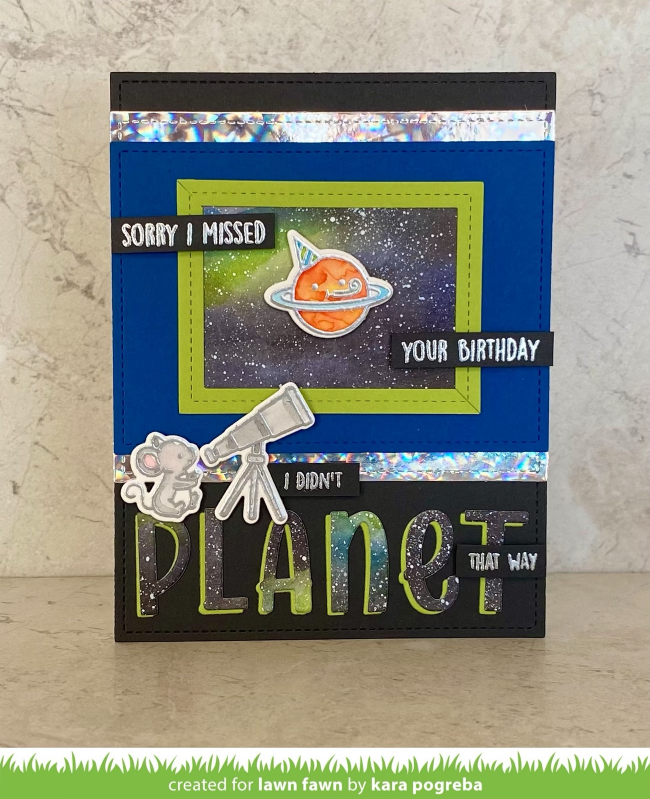 Kara used shiny silver details to make her galaxy inspired cards! She silver-embossed the cute Year Twelve and Super Star images, then she added holographic cardstock to frame the cool scenes!


Mindy's tropical scene features Stitched Wave Borders, Hammock and Trees and those cute parrots from Year Twelve! I love her ink-blending, it gives this card so much gorgeous color!


Elise covered a full card panel with an amazing galaxy, then she added the fun images and punny sentiment from Year Eleven! She also included cute birthday images from Scootin' By!


Lynnette used Magic Iris Tropical Leaves Add-On with a brightly colored parrot! Instead of using the sentiment from Year Twelve she used a greeting from Toucan Do It!


I love how Audrey painted a watercolor galaxy over just a portion of the card panel. It defines the cute scene in a fun, clean and simple way! She paired Year Eleven with balloons from Bicycle Built for You and stars from Hearts and Stars Skinny Tag!


Grace's birthday card is so creative and fun! She used the Outside In Stitched Strawberry to make an amazing "pineapple house" for the Year Twelve parrots! She added pineapple texture with Fancy Lattice Backdrop! This tropical scene is so much fun built on a Platform Pop-Up with fun additions from Toucan Do It, On the Beach and S'more the Merrier!


I love how Mindy made the sentiment the star of this card! Her galaxy background is so fantastic, and it lets the brightly colored Year Eleven planets pop as they frame the greeting!


Elise used Henry's ABCs to add the punny part of the Year Twelve birthday sentiment! Then she used it as a place for the birthday images to land! In addition to the parrot, Elise used the cake from Elphie Selfie along with balloons and gifts from Scootin' By!


Caly's amazing card shows how Year Eleven and Out of This World play together so well! Her card also features a unique watercolor galaxy!


Intro Videos
Now, I have a video to introduce Year Eleven and show some fun ways to use this set! You can watch the video below or click HERE to watch at our YouTube channel.
Thanks so much for watching!




And now, I have another video to introduce Year Twelve. I hope you enjoy it! You can watch the video below or click HERE to watch at our YouTube channel.
Video coming soon!


Giveaway Time
I hope you have enjoyed this look at Year Eleven and Year Twelve! Tomorrow we will have another fun set to show you! But for now, it's giveaway time! Leave us a comment telling us if you have signed up for our birthday free gift, by April 20th at 5:00pm ET, and we will randomly pick one winner for this set! (If you already own this set and win, you can choose another set!) Make sure to come back tomorrow, Tuesday, April 19th for our next inspiration week post!
Thank you so much for all of your excitement for our inspiration week, we love your comments, tweets, Facebook, Instagram and YouTube messages! Every one puts a big smile on our faces! We think Lawn Fawn fans are the best in the world. We love you guys!
Supplies:

Thanks so much for visiting!
Have an amazing day!