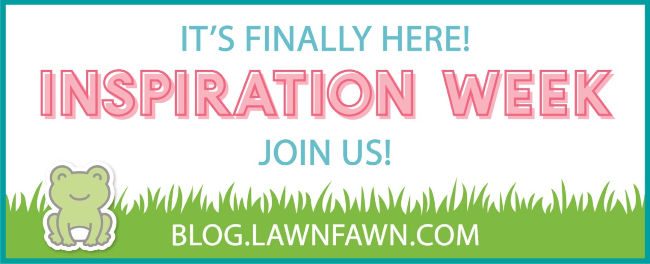 Hello and welcome to Lawn Fawn's April 2020 Inspiration Week! Our Spring 2020 Release is available at your favorite store and www.lawnfawn.com! Woohoo!
We already have five places you can leave comments to win:
Our big giveaway post!
Outside In Stitched Balloon Stackables and Stitched Balloon Frames post!
Year Ten post!
Tiny Gift Box Ladybug Add-On and Stitched Bouncy Trails post!
Charge Me Up post!
AND today's post too!
Today is our showcase of Don't Worry, Be Hoppy! Don't worry… there's lots to be "hoppy" about with this cute stamp set! This bunny and frog love to "hang" on your card or craft. These stamps can be used on their own, but also coordinate with Don't Worry, Be Hoppy Add-On to create cute gift tags or bookmarks! It is perfect for Easter, or for anyone who loves frogs or bunnies!
We hope to have intro videos to show some fun ways of using the new sets soon. Thanks for understanding, we appreciate your patience.
The design team has made the most amazing samples! Remember to click on the person's name to see all of the details and leave these wonderful DT girls some comment love!
Grace created an "unfroggettable" Mushroom House card with a hidden surprise! She tucked a cute froggy bookmark behind the mushroom top, so clever!
Elise can read lots of books with these cute bookmarks ready to save the pages! She used the new Don't Worry, Be Hoppy stamps with the coordinating dies and Add-On die set! The colors in the Spring Fling paper collection are so happy!
The Don't Worry, Be Hoppy bookmarks look adorable keeping your place in your favorite book!
The Don't Worry, Be Hoppy frog plays nicely with the hoppers from Toadally Awesome! Yainea created an amazing scene for them using Cattails Border and some gorgeous ink-blending!
These cute bunnies are hanging out in the branches from A Bug Deal on Tammy's clever card design! I love the blended pink and blue in the sky, such a pretty background!
Audrey used Spiffy Speckles paper to make a bunch of cute tags! The cute critters are even cuter with googly eyes! I love how she used coordinating shades of Lawn Trimmings cord on each tag!
How cute are those bunny and froggy bums?!
I love how Latisha used Noble Fir ink to stamp rows of frogs on kraft cardstock! The white gel pen details are so cute, too! Her fun design also features Spring Fling paper and a Stitched Scalloped Rectangle Frame!
Megan's interactive card combines bunnies from Some Bunny, Say What? Spring Critters and of course, the Don't Worry, Be Hoppy bunny popping up from the carrot patch! To create the background she used a Meadow Backdrop: Portrait!
Yainea added a little bit of fun to her bookmarks by attaching the cute Say What? Spring Critters bunny and frog to the end of the cord! She popped in the For You, Deer and the little deer from Say What? Christmas Critters in this cute collection made with Dandy Day papers!
Elena's cute card is filled with smiling tree frogs with the help of A Bug Deal and critters from Don't Worry, Be Hoppy!
Tammy filled this slim line card with a meadow full of critters and plants from Don't Worry, Be Hoppy, Toadally Awesome, A Bug Deal, Bugs and Kisses, Gleeful Gardens and Fairy Friends! This happy scene makes me smile!
Megan's fantastic Magic Iris design combines frogs from Toadally Awesome and Say What? Spring Critters with the hopper from Don't Worry, Be Hoppy! The How You Bean? mason jar is collecting cute flying cuties from A Bug Deal!
I hope you have enjoyed this look at Don't Worry, Be Hoppy ! It's giveaway time, again! Leave us a comment telling us how you are sharing smiles by TODAY, April 15th at 5:00pm ET, and we will randomly pick one winner for this set! (If you already own this set and win, you can choose another set!) Make sure to come back tomorrow, Thursday April 16th for the April Inspiration Week winner announcement!
Thank you so much for all of your excitement for our inspiration week, we love your comments, tweets, Facebook, Instagram and YouTube messages! Every one puts a big smile on our faces! We think Lawn Fawn fans are the best in the world. We love you guys!
Supplies:

Thanks for visiting!
Have an amazing day!