Lawn Fawn and Chibitronics have teamed up again to bring you another exclusive, limited-edition kit! In the Merry Mice Light up Cardmaking kit you will find a holiday stamp set, coordinating dies, lights, patterned paper, twine, cardstock, templates, easy-to-follow instructions, and more. Create two complete projects, and learn the skills needed to create even more! Make sure to check out the Intro Video to learn more!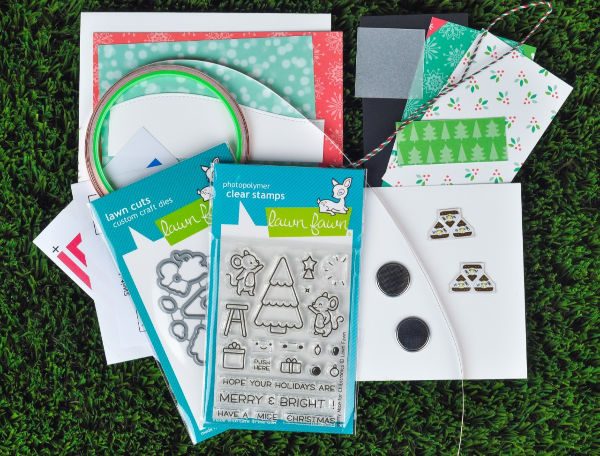 Hello everyone! Welcome to our special Fawny Holiday Week! This week is all about getting ideas for the upcoming Holidays! We hope you have been enjoying the inspiration, videos and giveaways this week! (Make sure to comment for a chance to win a stamp set and coordinating dies of your choice and a Snow Day Remix 6×6 pad!)
We are featuring Lawn Fawn Holiday products this week, both old and new! Woohoo! We will be sharing holiday projects by our Design Teams including our Lawn Fawnatics Design Team and our Video Design Team! Our team members (Fawnies) from Lawn Fawn Headquarters will also be joining us for extra inspiration! I can't wait to show you all of their gorgeous projects!
Eloise gets us started today with her beautiful Christmas Fishes design! You can watch the video tutorial below or click HERE to watch at our YouTube channel.
Thanks for watching!
I love the pretty color palette that Eloise used to color the images from Christmas Fishes and Mermaid for You! She built her festive ocean scene on a wash of watercolor then added a fun design element with Stitched Trails on the Sage Leaf card base!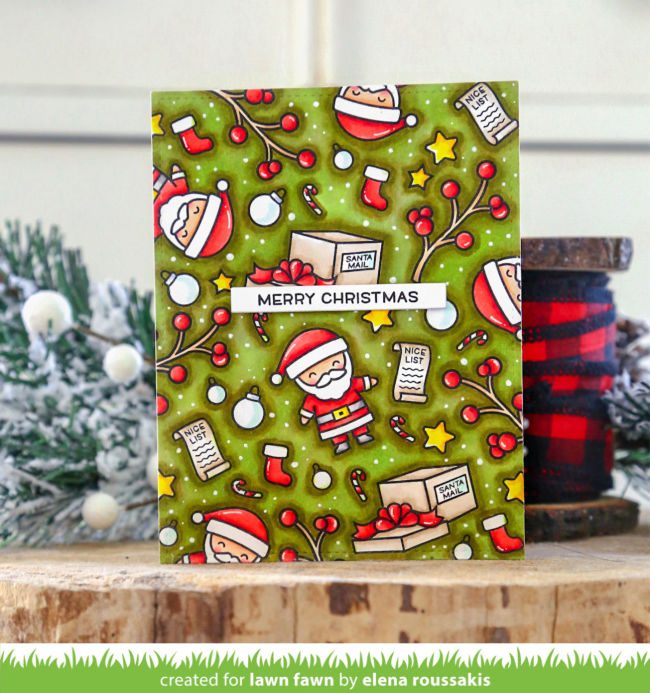 For this beautifully unique design, Elena stamped a random mix of fun holiday images from Ho-Ho-Holidays, Holiday Helpers, Christmas Dreams and Frosty Fairy Friends!
Karin created an adorable night before Christmas scene with Santa flying over the Little Town Border! She added a snow filled night sky with Snowfall Backdrop.
Inside the card, Karin used a Mini Pop-Up Box to make a chimney for Santa! Such a fun surprise!
Melissa used cheerful papers from Snow Day Remix and older collections to fill the windows of her scrapbook layout! She added some fun using Offset Sayings: Christmas to stamp a repeated pattern in a few of the windows.
Kay used tiny holiday images from various sets (Yeti or Not, Christmas Dreams, Baaah Humbug) to create a lovely wreath design! The bright colors add to the festive look of this brilliant card!
Grace added movement to her super cool Yeti or Not card using a modified Let's Toast Pull Tab Add-On. Pull the tab and the snowboarding Yeti catches some air on the slopes! I love the fun rainbow colors that Grace used to color the gifts and scarf and hat, so merry and bright!
It's a charming winter wonderland on Lynnette's happy card! She combined images from Beary Happy Holidays and Christmas Dreams in a scene created with Stitched Hillside Backdrop and Stitched Mountain Borders!
Marine's adorable Christmas Fishes card has a cool interactive pop up scene on the inside! The dimensional layers give depth to the aquatic scene in a cute snow globe!
Yainea used the Shadow Box Card Mountain Add-On to make a backdrop for the cute yeti! She lots of festive fun by sprinkling Chunky Glitter on the Scripty Merry die cut, it looks like sparkling snow!
Samantha's gorgeous card is so clever! The skating Beary Happy Holidays bear can see her reflection in the Stitched Pond thanks to mirror stamping and some expert coloring!
I hope you have enjoyed this fun look at some of our Holiday and Winter sets. We've reached the end of our Fawny Holiday celebration week! But not before we have another giveaway! Leave us a comment telling us what made you smile today by Sunday, November 17th at 2:00PM ET, and we will randomly pick one winner for a stamp set with coordinating dies of their choice and a Snow Day Remix 6×6 Petite Paper pack! Post about our Fawny Holiday Week on social media and leave another comment for another chance to win!
Make sure to comment on all of our Fawny Holiday Week 2019 posts by Sunday, November 17th! We will announce the winners on Monday, November 18th. We hope you enjoyed this week of holiday inspiration! Thank you so much for sharing all of your holiday favorites with us!
Supplies:

Thanks for visiting!
Have an amazing day!