Hello everyone! Welcome to our special Fawny Holiday Week! This week is all about getting ideas for the upcoming Holidays! We have fun ideas, giveaways and videos! (Make sure to comment for a chance to win our special giveaway today!)
We have a super fun announcement! Create holiday projects that are merry and bright! Lawn Fawn and Chibitronics have teamed up again to bring you this exclusive, limited-edition kit! In this kit you will find a holiday stamp set, coordinating dies, lights, patterned paper, twine, cardstock, templates, easy-to-follow instructions, and more. Create two complete projects, and learn the skills needed to create even more! Chibitronics and Lawn Fawn will be sharing amazing Design Team inspiration using this new kit today! We also have an Intro Video for the Merry Mice Light Up Cardmaking Kit and a giveaway below! Then be sure to visit the Chibitronics blog to see what their amazing designers have to share!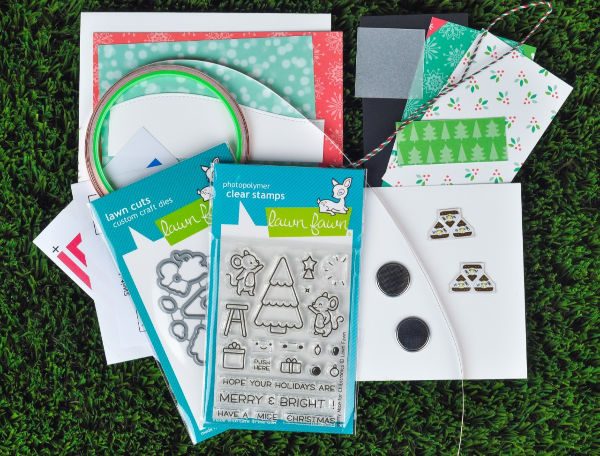 Here's a peek at everything that comes in the Merry Mice Light Up Cardmaking Kit!
Grace's card features our new Merry Mice decorating a tree in a snowy Winter Village! The greeting is die cut Finley's ABCs that are really bright when the cute little package is pushed!
Grace added lights on the star and also behind the cut out letters!
Tammy combined our new Merry Mice with the Mice on Ice to create a beautiful winter scene! The star lights up with the press of the button behind the gift package!
Tammy used the her cute little Merry Mice scene to create ornaments to coordinate with her original card design!
Elena's adorable holiday scene has our Merry Mice stringing up lights on the tree and enjoying festive hot beverages! She used lights from Cheery Christmas and the tiny little mugs from Holiday Helpers!
This card is filled with lots of charm and cuteness! I love that the Merry Mice stamp set is great with and without lights!
There's just something about bright colors and the combination of white and kraft on a card that always makes me smile! Audrey used the new Merry Mice Chibitronics Kit to light up star topper on her tree!
Elise gave her adorable holiday scene a fun snowy sky using Snowy Backdrops! She also created a cute and punny greeting with Finley's ABCs!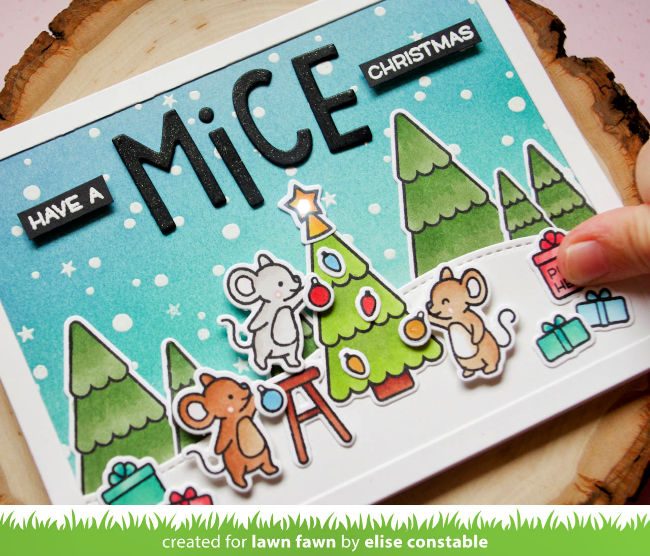 Marine created a Mushroom House shaped mini card with lots of holiday charm! I love how the Christmas lights coordinate with the house, the roof and even the bow on the tiny little wreath!
She added her Merry Mice scene on the inside of her card! Again, everything coordinates in shades of red and pink including the Knit Picky Fall paper in the background! I love how the cute images in the scene are stamped with Crunchy Leaf ink so they have a sweet storybook style!
The circuit for the light is hidden behind the cute scene so the star at the top of the tree can light up with the press of the button!
Lynnette used the sweet Merry Mice stamps to create an adorable Christmas scene with lots of traditional red and green! The happy smile for the tree is included in the set!
The new Merry Mice play very nicely with our Mice on Ice cuties! They are busy adding ornaments to the tree while their friends skate out a merry message! I just love this happy scene by Megan!
Chari chose bright cheerful colors for her packages and tree! The watercolor background and randomly stamped stars allow the cute critters to really shine! The Stitched Oval in Snow Day Remix red paper is a great way to anchor the scene!
Melissa M layered Scalloped Circles for her Merry Mice scene! The busy little mice are decorating the tree with lights from the Baaah Humbug set!
Nichol used a Stitched Hillside Backdrop: Portrait to build her sweet scene! The deep blue night sky is a beautiful contrast to the snowy hills!
I love that with the press of the button the Christmas tree star lights up along with stars in the sky!
Kristin used the perfect shade of Sugarplum purple to add a bit of holiday fun to her merry and bright card! Her clever design used a cut out of our Puffy Star Stackables and Snowy Backdrop to create a colorful backdrop for the lights to shine through!
Now I have a video to introduce you to the Merry Mice Chibitronics Kit and show you how to use the templates and some fun things you can do with them! You can watch the video below or click HERE to watch at our YouTube channel.
Thank you so much for watching!
I hope you have enjoyed this fun look at our Merry Mice Chibitronics Kit! Tomorrow we have another fun Fawny Holiday celebration but for now, it's giveaway time! We are giving away two Merry Mice Chibitronics Kits! Leave us a comment telling us what you think about this new holiday kit by November 17th at 2:00PM ET, and we will randomly pick two winners! Post about the Merry Mice Chibitronics Kit on social media and leave another comment for another chance to win!
Make sure to visit the Chibitronics blog to see what their amazing designers have to share!
Supplies:
Merry Mice Light Up Cardmaking Kit

Thanks for visiting!
Have a happy Fawny Holiday Week!