Happy Friday and welcome to a Bonus Inspiration Week Post! All of our Summer 2019 products are now available at lawnfawn.com and at your favorite online and local craft stores! Woohoo!
Today we are introducing our new Cake Slice Box and Just Stitching Double Rectangles! This cake is too cute to eat! This adorable cake slice box is perfect for birthdays, weddings, or anytime you need a cute treat. This easy-to-assemble box makes it fun to create a complete eight-slice cake! These double stitched rectangles are just stitching, making them great for adding a decorative touch to your cards and crafts!
The design team has made the most amazing samples! We also have videos at the end showcasing some fun ways of using these great new die sets!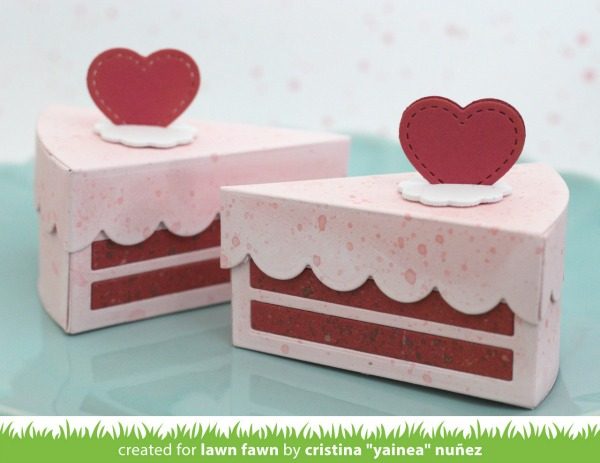 Yainea "baked" a sweetheart of a cake! She filled her Cake Slice Box with yummy chocolates! This is a great idea for Valentine's Day as well as birthdays and just to share some love!
Audrey's card is a beautiful way to send love. I love how she used the whole set of Just Stitching Double Rectangles to add detail and to frame the scene.
Chari's beautiful pastel Cake Slice Box is a tall 4 layer cake! She stacked two boxes, trimming the scallops on one lid and adding another lid on the bottom as well! Those sprinkles are my favorite part!
Our cute Seahorsin' Around cuties look adorable framed with the Just Stitching Double Rectangle! I love how Latisha color-coordinated the seahorses with the Spring Fling paper!
Yellow cake with milk chocolate filling and pretty pink icing on top! Kay's Cake Slice Box looks so yummy! And it's ready to celebrate a birthday with the cute candle just waiting to be blown out!
Lynnette's thank you card is a clean and simple beauty! The Just Stitching Double Rectangles look so pretty with the Stitched Flower Frame and add lovely detail!

Elena's Cake Slice Box is an elegant party decoration or favor box for a wedding or shower! I love how she layered the flowers to make a lovely flower embellishment!
Megan's creative Cake Slice Box has me craving carrot cake! I love how she used ink splatters to look like a cake filled with lots of good stuff! The cute carrot decorations are from our Stitched Garden Border set.
Elise's Seahorsin' Around card is so charming! Those rainbow colored seahorses make me smile! I love how she nested two Just Stitching Double Rectangles to create the perfect frame for her underwater scene!
Picture a table filled with these bright and cheery Cake Slice Boxes at your next party! Latisha's happy mix of papers will add a festive look while being the perfect place to share party favor treats!
Now I have a video for you to introduce Cake Slice Box and show you some fun ideas for using this set! You can watch the video below or click HERE to watch at our YouTube channel.
Thank you for watching!
And now I have a video for you to introduce Just Stitching Double Rectangles to share how this new die set will add lots of detail to your cards and crafts! You can watch the video below or click HERE to watch at our YouTube channel.
Thanks for watching!
And now it's Giveaway time! For this Bonus Inspiration Week post we are giving away a Cake Slice Box die set plus one new Summer 2019 stamp set of your choice to 2 lucky commenters on this post! To enter leave a comment below by Monday May 20th at 5:00PM ET. We will announce the two winners on Wednesday May 22nd!
Supplies:

Thanks for visiting!
Have an amazing day!