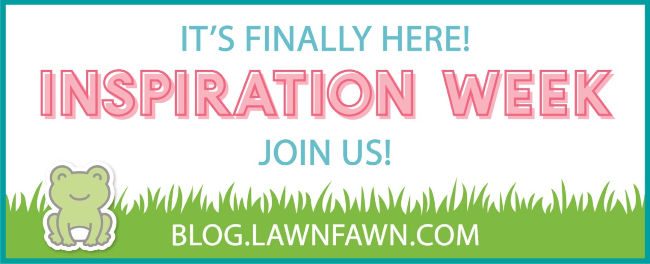 Hello and welcome to Lawn Fawn's April 2020 Inspiration Week! Our Spring 2020 Release is available at your favorite store and www.lawnfawn.com! Woohoo!
We already have three places you can leave comments to win:
Our big giveaway post!
Outside In Stitched Balloon Stackables and Stitched Balloon Frames post!
Year Ten post!
AND today's post too!
Today is our showcase of Tiny Gift Box Ladybug Add-On and Stitched Bouncy Trails! Pair this set with Tiny Gift Box to create cute boxes that are perfect for treats! This add-on set has everything you need to turn Tiny Gift Box into an adorable ladybug. Create stitched trails for bunnies, frogs and other hopping critters with these fun dies. With five options, it's easy to create the perfect bouncy trail!
We hope to have intro videos to show some fun ways of using these new sets soon. Thanks for understanding, we appreciate your patience.
The design team has made the most amazing samples! Remember to click on the person's name to see all of the details and leave these wonderful DT girls some comment love!
Elena's Tiny Gift Box ladybugs would be adorable for a summer party! Let's make it the summer of the ladybug party with these super cute party favors!
Megan took the little ladybug off the tiny box and created a super fun card! She added a large ladybug that was made with the Woodland Critter Huggers set!
Tammy's sweet slim line card features a cute ladybug in a flower garden created with the Stitched Flower Frame and a couple Reveal Wheel Add-On sets; Tulip Add-On and Circle Add-On Frames: Flower and Sun!
Melissa's ladybugs are a rainbow of fun! She used a combination of Dandy Day paper and pretty Shimmer cardstock in coordinating colors! How fun are these happy little ladybugs!
Chari's fresh and fun card combines Magic Iris with the Stitched Flower Frame! The Tiny Gift Box Ladybug Add-On is so cute perched on the flower and those googly eyes give her lots of personality!
The Magic Iris opens to reveal the flower's happy face! So cute!
Audrey thought outside of the Tiny Gift Box and used the Ladybug Add-On to create a fun block of cheese! It's perfect for the cute Dandy Day mommy and baby mice! She used a sentiment from Elphie Selfie on an Everyday Sentiment Banner tied on with a bit of Lemon cord!
I just love this sweet little ladybug face! Rebecca combined cardstock in Chili Pepper, Apricot and Black Licorice to make her cute Tiny Gift Box!
Yainea added a Grassy Border to her Candy Box to create a sweet background for the little ladybug! She tied the ends with Sweetheart cord and included a Hello Border greeting!
Our new Stitched Bouncy Trails are great for adding cute detail to cards featuring hoppy friends like the Toadally Awesome frogs on Lynnette's fantastic card! She created a fun scene using Cattails Border and Stitched Pond Frame!
Grace's Magic Iris card features a sunny sky blended with warm colors! She added "clouds" from Meadow Backdrop: Portrait and a sweet little sun from Reveal Wheel Circle Add-On Frames: Flower and Sun! The Stitched Bouncy Trails add so much fun detail!
The opened Magic Iris reveals a shimmery rainbow, a great reason to smile! The perfect sentiment is from the Rain or Shine Before 'n Afters set!
Latisha's charming design starts with a Cloudy and Grassy Hillside stenciled background! Stitched Bouncy Trails show us where the cute Don't Worry Be Hoppy bunny has hopped! She combined Simple Puffy Clouds with a contrasting color of Simple Puffy Cloud Frames to add lots of fun!
The Stitched Bouncy Trail shows the movement of the cute frog who is about to land on the lily pad! Elise created an adorable Toadally Awesome scene with Stitched Pond for her card!


I hope you have enjoyed this look at Tiny Gift Box Ladybug Add-On and Stitched Bouncy Trails! Tomorrow we have another fun set to show you! For now, though, it's giveaway time! Leave us a comment telling us if you have used the Tiny Gift Box Add-On sets on a card by April 15th at 5:00pm ET, and we will randomly pick one winner for this set! (If you already own this set and win, you can choose another set!) Make sure to come back tomorrow, Tuesday April 14th for our next inspiration week post!
Thank you so much for all of your excitement for our inspiration week, we love your comments, tweets, Facebook, Instagram and YouTube messages! Every one puts a big smile on our faces! We think Lawn Fawn fans are the best in the world. We love you guys!
Supplies:

Thanks for visiting!
Have an amazing week!