We hope you enjoyed October Inspiration Week! Here's a recap of the Fall & Winter 2023 products that we highlighted this week. And of course, we have our Inspiration Week winners below! Be sure to join us in November for some special surprises including Fawny Holiday Week!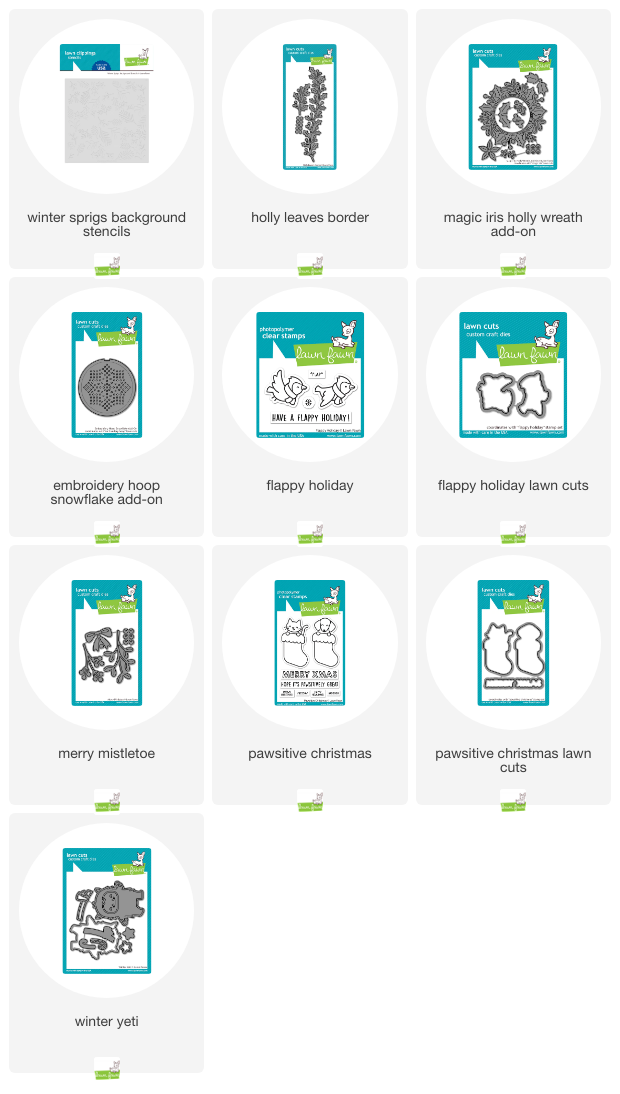 Here are some highlights from this inspiration filled week!



Beautiful Winter Sprigs Background Stencils card by Audrey!



Megan's gorgeous Holly Leaves Border design!



Caly's festive Magic Iris Holly Wreath Add-On card!



A fun winter-themed card by Elise featuring Embroidery Hoop Snowflake Add-On!



Chari's lovely Merry Mistletoe design!



Marine's clever Magic Picture Changer card with Flappy Holiday and Winter Birds!



Lynnette's adorable card featuring Pawsitive Christmas!



And a wonderful Winter Yeti scene in a Platform Pop-Up by Grace!



And now for our winners ….. parrrrrrummmmmmm …… (that's a drum roll) ……..


The Big Winner of ALL 12 Fall & Winter 2023 stamp sets is…Carrie Rhoades

The Big Winner of their choice of 4 Fall & Winter 2023 Stand-alone Lawn Cuts sets is…Bettina S.

Winter Sprigs Background Stencil and Holly Leaves Border winner is…Joan C.

Magic Iris Holly Leaves Border winner is…Megan S.

Embroidery Hoop Snowflake Add-On winner is…D. Suzanne Cox

Flappy Holiday and Merry Mistletoe winner is…Lisa Fyfe

Pawsitive Christmas and Winter Yeti winner is…Emilia H.


If you are one of our lucky winners, please email us at fawnies(at)lawnfawn(dot)com with your name, mailing address and which prize you won!
Erica, Mike and I are so thankful for all of your enthusiasm this week! It has been amazing, and it means more than we could ever say! We loved reading all of your comments and getting to learn a little bit more about you! Thank you so much for being so amazing!!!!
Thanks for visiting, have an amazing day!