Hello and welcome to Lawn Fawn's April Inspiration Week! Our Spring Release including 14 new stamp sets and coordinating dies along with 17 new standalone die sets, 2 new paper collections, and all of our exciting new products are available at your favorite store and at www.lawnfawn.com! Woohoo! This week we will wrap up our highlights of our Spring 2023 Release!
Daily Giveaway
We already have five places you can leave comments to win:
Our big giveaway post!
Year Thirteen post!
Cloud Background Stencils & Offset Sayings: Everyday post!
Dotted Moon and Stars Backdrop & Pastel Pearlescent Vellum post!
Henry Jr.'s ABCs & Henry Jr.'s ABCs Spanish Add-On post!
AND today's post too!
Introducing!
Today is our showcase of Here for You Bear and its coordinating dies! Send notes of encouragement to your loved ones with this adorable rainy day bear! The included images and sweet sentiments will let them know rainbows are ahead!
We are also shining the spotlight on Tiny Gift Box Elephant Add-On! Pair this set with Tiny Gift Box to create cute boxes that are perfect for treats! This add-on set has everything you need to turn Tiny Gift Box into an adorable elephant. Or you can add a cute elephant to a card or scrapbook page!

Design Team Inspiration
The design team has made the most amazing samples! We also have a video at the end to inspire you! Remember to click on the person's name to see all of the details and leave these wonderful DT girls some comment love!


Here for You Bear Inspiration!



I love Marine's rainbow of Elephant Parade Add-On umbrellas! It fits so perfectly with the sweet sentiment from Here for You Bear! She also used little bears from Beary Rainy Day and created a cloudy sky with Cloud Background Stencils.



Audrey's watercolored background looks so amazing with Here for You Bear! She included some Simple Puffy Cloud Frames to fill in her beautiful design!



Caly created a cheerful design with rainbows and sunshine from Corner Rainbow Stencils! Then she added Here for You Bear and some friends Beary Rainy Day!



Elise used the solid raindrop, included in Here for You Bear to add to the inked background of her lovely card set. Then she layered the clouds, rainbow and cute bear over the top along with the thoughtful message!



I love how Latisha's little bear is floating on the pillowy clouds! Her simple cloudy stenciled design is so sweet, sending an encouraging message!



Megan's awesome mini slimline card makes me smile so much! She framed the clouds and rainbow with a Stitched Scalloped Circle Frame before adding a pair of cute Here for You Bears! Then she added more cheerful color with a Really Rainbow message in Henry's ABCs!


And now here's Tiny Gift Box Elephant Add-On inspiration!



Yainea's pair of Tiny Gift Box Elephant Add-On favors are ready to party! It's so cute how she inverted the blue and gray colors for more variety! Then she attached Party Balloons to the elephants with acetate strips to add a really festive touch. She also tucked the balloon strings behind their little feet as a fun little detail!



This card by Elena is just so sweet! I love how she nestled the elephant in among the flowers of the Secret Garden Window! And I also love the sweet What's Sewing On paper in the background!



Kara made this tiny elephant her own using Copic markers to add shading, definition and personality! It is so cute how she tucked the little peanut behind the tiny pachyderm's foot!



She added even more cuteness by including the little mice from Elephant Parade!



Oh my goodness, Grace created a card that is so adorable! She started with a Dotted Moon and Stars Backdrop: Portrait layered over a light panel so the moon and stars stand out. Then she added a vellum an Outside In Stitched Star, creating a glow with Yeti ink. Finally, she tucked the little elephant and another star into some Puffy Clouds to finish this delightful card!



And now Chari created another video tutorial to introduce Tiny Gift Box Elephant Add-On!
Chari creates a cute circus themed card to highlight Tiny Gift Box Elephant Add-On! You can watch the video below or click HERE to watch at our YouTube channel.
Thank you so much for watching!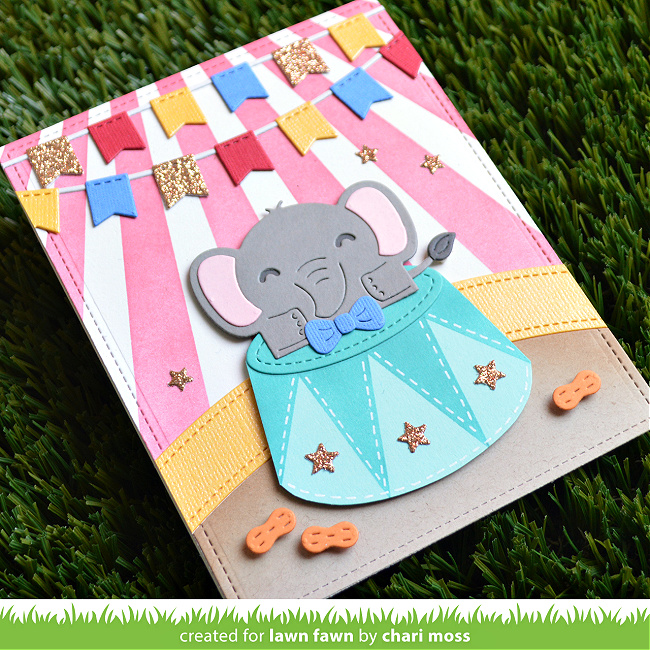 Giveaway Time
I hope you have enjoyed this look at Here for You Bear and Tiny Gift Box Elephant Add-On! Tomorrow we will announce our April Inspiration Week winners! But for now, it's giveaway time! Leave us a comment letting us know what you would like to see added to our Tiny Gift Box collection by TODAY, April 19th at 5:00pm ET, and we will randomly pick one winner for this set! (If you already own this set and win, you can choose another set!) Make sure to come back tomorrow, Thursday, April 20th as we announce our inspiration week winners!
Thank you so much for all of your excitement for our inspiration week, we love your comments, tweets, Facebook, Instagram and YouTube messages! Every one puts a big smile on our faces! We think Lawn Fawn fans are the best in the world. We love you guys so much!
Supplies:

Thanks so much for visiting, have an amazing day!