Join us on Wednesday for another awesome Inspiration Week! We will continue to showcase more of the Spring 2023 Release with Design Team samples, intro videos and daily giveaways! See you on Wednesday for the Big Giveaway post!

We have a new video recreating Tammy's amazing Platform Pop-Up card! You can watch the video below or click HERE to watch the video at our YouTube channel.
Thanks so much for watching!



You can find more about Tammy's card at the Simon Says Stamp blog HERE.


Spring is almost here! Ivy created a beautiful Darling Daffodils wreath for her door and a lovely card with a fun secret!



Ivy created a bunch of Darling Daffodils flowers in pretty Shimmer cardstock! She also added in some leaves from Happy Hibiscus and Tropical Leaves. Then she simply attached them to a 12″ wreath found at a craft store.



Ivy selected lovely Spring colors from the Gemstone, Tropical and Pastel Shimmer cardstock packs.



Ivy created a bonus card project with a fun secret! She made a pretty card base with Cloudy Stencil, adding a cheery greeting on a Simple Wavy Banner. Then she assembled more Darling Daffodils, using bobby pins for the flower stem! She attached the flowers to a Slimline Tropical Leaves Border. Such a fun way to wear some springy flowers in your hair! This card is a great gift idea!



Thank you, Ivy for sharing these wonderfully creative Spring designs! Love them so much!

Supplies: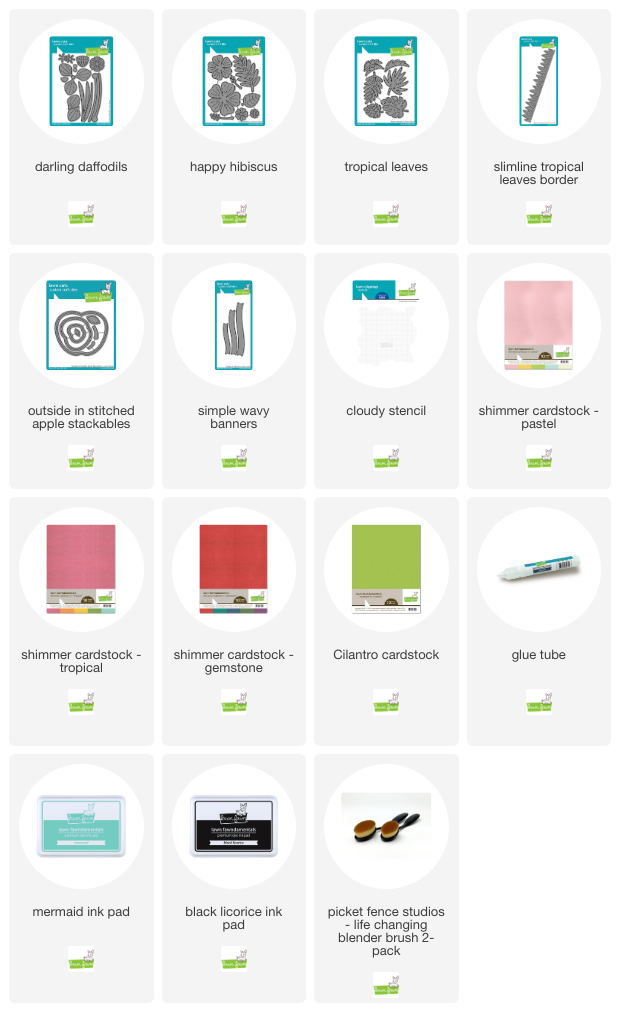 Thanks so much for visiting, have an amazing day!