We hope you will join us tomorrow for our Big Giveaway Post and the start of October Inspiration Week! We will be highlighting more of our Fall/Winter Release stamps and dies with Design Team inspiration, intro videos and daily giveaways! We can't wait!
We love to share the creativity of our Lawn Fawn HQ Fawnies! Karolina joins us today to share an amazing Happy Fall card filled with colorful Stitched Leaves!
Karolina covered her card with leaves die cut from Knit Picky Fall papers, Sparkle Autumn glitter paper and cardstock in rich shades of Noble Fir, Canned Pumpkin and Ground Coffee! It reminds me of the ground while strolling through the woods as the leaves are falling! So beautiful! Happy Fall Line Border provides the perfect card greeting layered with an Everyday Sentiment Banner!
Thank you so much for inspiring us today, Karolina! Your card is so gorgeous!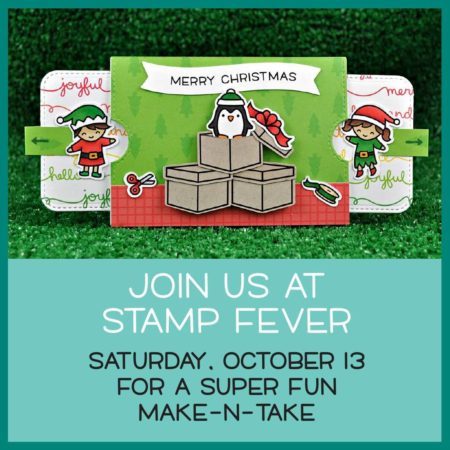 Just a reminder that we will be at Stamp Fever in Orange, CA this Saturday from 10:00-4:00! We are looking forward to seeing our friends and making new friends while we craft together! Contact Stamp Fever to sign up for the FREE Double Slider Surprise make-n-take! See you Saturday!