Hi Friends! Welcome to Featured Fawny Friday! We searched for fresh and fun inspiration and found some awesome projects to share! This time we are highlighting awesome projects that use our new May Release in clever ways!
We love seeing all of your amazing cards and crafty projects on Instagram and Flickr! And, we can't wait to share them! So if you use #lawnfawn on your projects at Instagram, enter a Lawn Fawnatics challenge, or add them to our Flickr group, you just may find yourself featured on the Lawn Fawn blog!


by Sylvia
using Happy Hugs, Scootin' By, Scripty Bubble Sentiments, Center Picture Window Card


by Lidya (Leeds)
using Scootin' By, Village Shops, Road Border


by Donna
using Giant Sending Big Hugs, Happy Hugs


by Mimi
using Virtual Friends Add-On, Butterfly Kisses, Virtual Friends, Oliver's Stitched ABCs


by Steph
using Plaid Stencils, Hearts and Stars Skinny Tag, Virtual Friends


by Marie
using Happy Hugs, Cloudy Stencil, Grassy Hillside Stencils


by Claire
using Plaid Stencils, Virtual Friends Add-On, Virtual Friends


by Aiysha
using Scootin' By, Happy Hugs


Thank you all for sharing your wonderful talent with us. You guys are the best! We will be looking for your Lawn Fawn projects at our Flickr group, at Lawn Fawnatics and on Instagram (be sure to use #lawnfawn). We can't wait to see more of your awesome creativity!
Supplies: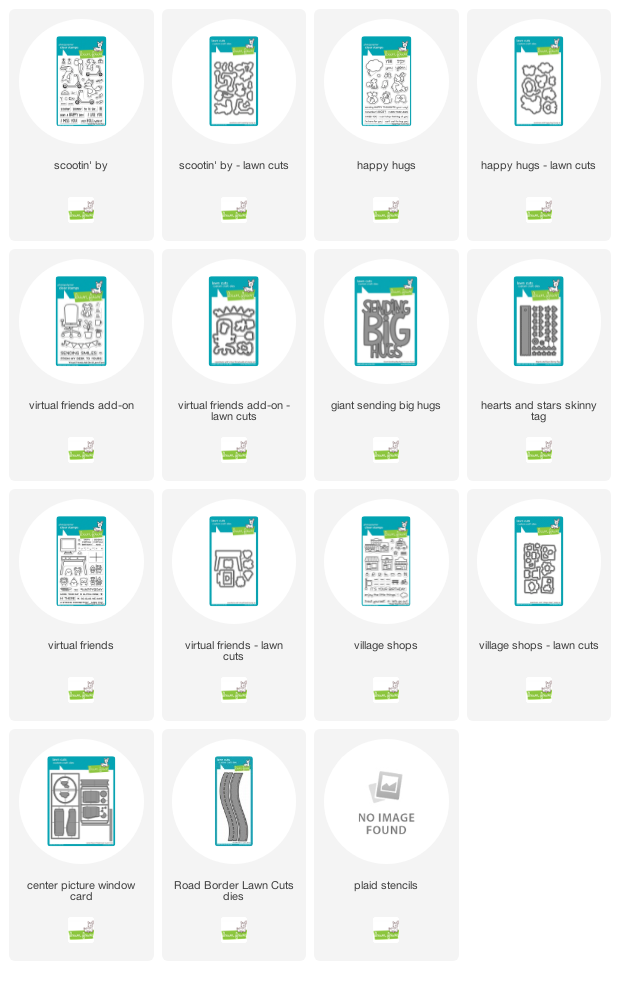 Thanks for visiting!
Have an amazing day!