Happy Monday, friends! We are excited to introduce another new blog contributor today! Say hello to Samantha Casey! Her sweet whimsical style is sure to inspire you! Today she shares an adorable Smooth Sailing design! And of course we have our Sneak Week Giveaway Winners, too!
Samantha started with an Itsy Bitsy Polka Dot Backdrop in Fake Tan as the base of this cute design! Then she created a small scene on a Scalloped Circle Stackable cut from Spiffy Speckles 6×6 paper, layered with another Scalloped Circle in Watercolor Wishes 6×6 paper that was cut with a Stitched Simple Wavy Border!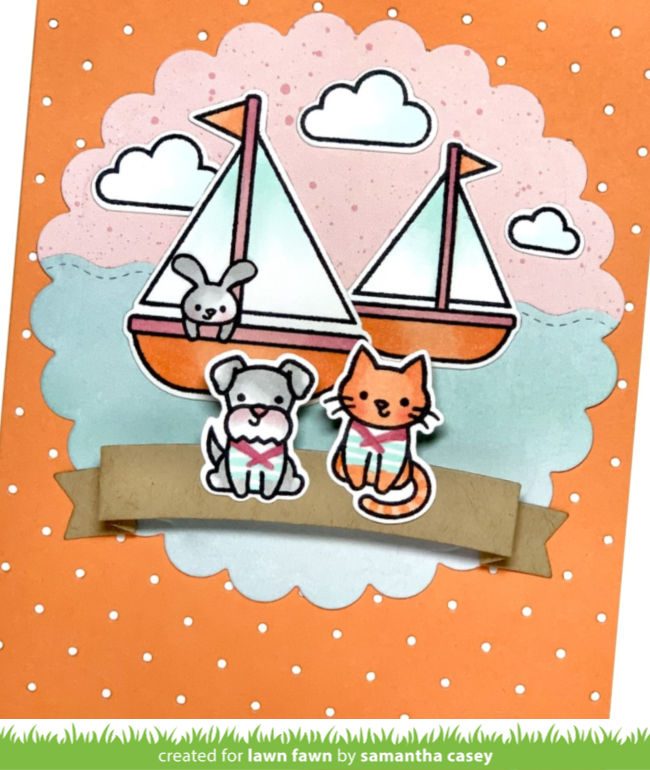 How cute are those striped "sailor" shirts and red scarves on the Say What? Pets! Samantha added those cute details while coloring the images with Copic markers. I love how she popped them up on a Fancy Folded Banner to add fun dimension to her design!
I'm so happy to welcome Samantha C as a regular blog contributor! Thank you so much for sharing this delightful inspiration today!
Supplies:
And now we have our Sneak Week Giveaway Winners! Woohoo!
Our Day 1 winner is…Amy Anderson!
Our Day 2 winner is…Adriana Falk!

Our Day 3 winner is…Lynne!
Our Day 4 winner is…Cassandra LeBeau!
Our Day 5 winner is…Megan H!
Please email us at fawnies(at)lawnfawn(dot)com with your name, mailing address and which prize you won!
Erica, Mike and I wanted to thank you all for all of your enthusiasm during Sneak Week for Fall/Winter 2019! It has been amazing, and it means more than we could ever say! You guys are the best!!!! BIG BIG hugs and lots of love to you all! Thank you so much for being so amazing!!!!
Be sure to join us in August for our Inspiration and Release Week with Design Team inspiration, Intro Videos and more giveaways as we lead up to Release Day on August 22! We will continue to highlight new products in this release in September and October!
Thanks so much for visiting!
Have an amazing day!