You've asked for it and here it is! A bee-utiful stamp kit! Say hello to the cute bees of Hive Five!



The Hive Five Kit is buzzing with happiness! It comes with Hive Five, a full-size 4×6 stamp set with coordinating dies. There's also a Honeycomb Shaker Gift Tag die set, Honeycomb Stencil, and a Stripes 'n Sprinkles 6×6 paper pack! We have even included a tube of Sparkle Glaze! This happy hive of busy bees is ready to make cute cards with punny messages sweet as honey!
This kit is exclusive to Lawn Fawn and will be available while supplies last. Click HERE to get your Hive Five Kit!

Design Team Inspiration!


Caly used honey-soaked color to stencil the honeycomb on the Stripes 'n Sprinkles background. She filled the Honeycomb Shaker Gift Tag with Chunky Glitter. The Hive Five bees, beehive and honey jar add so much cuteness!


Tammy created an amazing trio of Hive Five Kit projects to inspire us!


Tammy inked the Honeycomb Stencil on a square panel. Then she cut out the window using Outside In Stitched Circle Stackables. She brought in the branch and leaves from A Bug Deal as a place to "hang" the beehive. And then she created the cute tag without a shaker, filling the hexagon shape with another beehive and busy bee!


The Den Sweet Den bears are so perfect as companions for the busy bees and honey of Hive Five! Tammy's Platform Pop-Up card lets them savor the sweetness in 3D style!


Nichol's card is so sweet, stenciled to perfection, and her no-line coloring is the bees' knees!


She also stenciled the honeycomb on the envelope and made a sweet shaker gift tag to complete her coordinating set!


Elena used the length of her scalloped slimline panel to spell out a punny message with Cole's ABCs! She created a lovely backdrop for the bees and beehive with honeycomb shapes that she stenciled and die cut! Love those smiling little bees! They are so adorable!


It's good to be queen, especially on your birthday with this adorable card by Yainea! She added lots of great texture by using White Stencil Paste to add the honeycomb design. Then she brought in gold sparkle cardstock for even more royal bling!


I love how Kara used the Honeycomb Shaker Gift Tag as an element in this bee-utiful collage! Her greeting is so clever, blending Oliver's Stitched ABCs with an altered Happy Heart Day Line Border!


Marine's slimline card is so sweet! Sweet as honey! She included A Bug Deal branches for the bears to pursue their love of honey! Just so clever!


Megan cooled down the warm honey colors with a beautifully stenciled honeycomb background that is so pretty in teal! I love the honey-dripped Henry's ABCs and the Sparkle Glaze accented bees' wings!


Audrey's backdrop is so clever! I love how she included Paint Splatters along with the Honeycomb stenciled in golden honey colors!


Melissa's Platform Pop-Up scene is so whimsical, featuring just the sweet images of Hive Five! She used the pretty patterned paper of Stripes 'n Sprinkles for the Platform Pop-Up.


Latisha's design is so sunny and cheerful! She used the hexagon frame from the Honeycomb Shaker Gift Tag die set to frame the beehive and queen!


Elise's card is so colorful and sweet! She created a punny birthday greeting using Finley's ABCs.


How sweet is Lynnette's birthday design! I love how the Stitched Scalloped Border die mimics the lid of the honey jar. That is just so clever and fun!


I love how Mindy simply bee-utiful card uses warm honey colors and a fun rainbow for the stenciled honeycomb background!


The pretty flower and smiling bee look so sweet with Mindy's lovely rainbow of color! Be sure to check out the Intro to Hive Five Kit video below to watch Mindy create this beautiful card.


Melissa created her adorable card in bold honeybee colors! I love how she used black to frame the hexagon shaped vignettes and as a layer in the design! It looks so striking and really focuses on the cute, stamped elements!


Kara thought outside of the beehive to make this fun birthday design! She used a color combination of Cilantro, Peacock, Blue Jay and Storm Cloud to cut out the hexagon shapes. Then she arranged them in an eye-catching pattern before adding the Scripty Happy birthday greeting! On the envelope she continued with solid hexagons and a Magic Messages birthday sentiment.


Grace took advantage of the hexagon shapes in the Hive Five Kit to make little scenes that are so sweet! She combined the stencils, shaker gift tag and of course, those smiling bees in a fun colorful slimline design!


The greeting is so punny with a mix of Henry's ABCs and Scripty Happy!


Grace also created a standard size card using the same hexagon design! This time she made them shakers to fill with Chunky Glitter!


And finally, Grace made a sweet Honeycomb Shaker Gift Tag to coordinate with her cards! Sweet as honey!


Intro Video!
Here's a video to introduce all the elements of the Hive Five Kit and to show you some sweet inspiration! You can watch the video below or click HERE to watch at our YouTube channel!
Thanks so much for watching!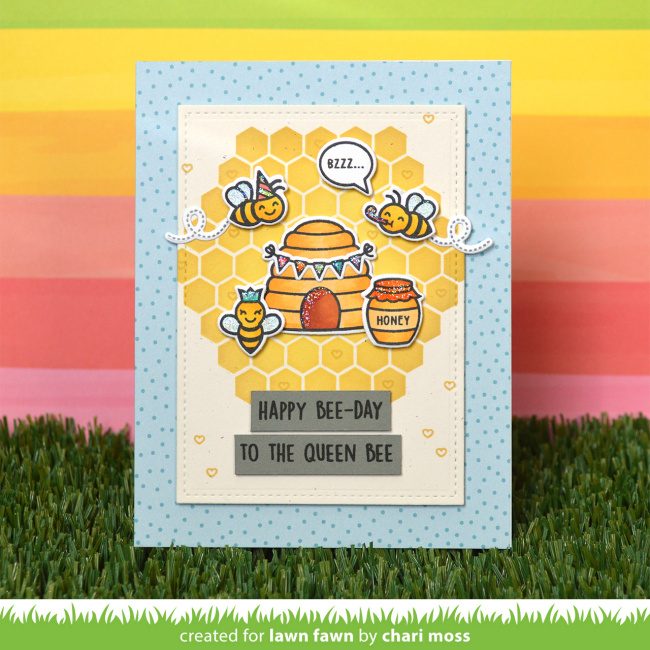 Giveaway Time!
I hope you are as excited as I am about the new Hive Five Kit! It is available now exclusively at lawnfawn.com! But now we have another way for you to get your hands on this sweet kit! Leave us a comment below by 2PM tomorrow, Thursday June 30th. We will randomly choose 3 winners for this kit. Be sure to check back here on the blog on Friday, July 1st when we will announce the winners.


Supplies:

Thanks so much for visiting!
Have an amazing day!