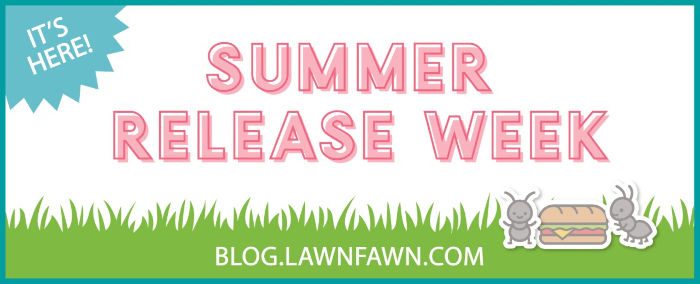 Hello and welcome to Lawn Fawn's Summer 2020 Inspiration and Release week! On June 25th our 8 new stamp sets and coordinating dies, 15 new standalone die sets, 3 new stencils and all of our exciting new products will be for sale at your favorite store and at www.lawnfawn.com! Woohoo! Until then we will have fun posts with design team projects, videos, and giveaways!
We already have one place you can leave comments to win:
Our big giveaway post!!
AND today's post too!
Today is our showcase of Unicorn Picnic and its coordinating dies and Reveal Wheel Unicorn Picnic Add-On! We will also highlight Puffy Cloud Backdrop and Sparkle Backdrop! You can never have too many unicorns! This set of unicorns, fairies, clouds, and sweet treats are perfect for adding magic to any occasion. Don't forget the glitter! The new backdrops are perfect for building magical backgrounds!
The design team has made the most amazing samples! We also have 2 videos at the end showcasing some fun ways of using these new sets! Remember to click on the person's name to see all of the details and leave these wonderful DT girls some comment love!
Elise's Unicorn Picnic scene is so sweet! The stenciled clouds in the background create a soft backdrop that let's the colorful unicorns and their yummy picnic desserts shine!
Megan used the Reveal Wheel Unicorn Picnic Add-On for her beautifully colorful design! The cloud changes color as the wheel is turned. Megan used the new Puffy Cloud Backdrop to create layers of soft clouds for the Unicorn Picnic!
This cute trio of unicorns are sharing a magical picnic in a meadow and in the clouds! Mindy's sweet design includes some cute trees from Happy Village along with the new Stitched Rainbow and Puffy Cloud Backdrop: Portrait!
Lynnette's adorable card combines the cute unicorns with the Sparkle Backdrop! The Really Rainbow paper is the perfect border with a Stitched Scalloped Rectangle Frame!
Melissa created a beautiful nautical scene with Smooth Sailing and Palm Tree Border! She used Puffy Cloud Backdrop and another new set, All the Clouds to make the rainbow filled sky!
Grace's Reveal Wheel design is full of rainbow fun! She used Really Rainbow paper and Scripty Sweet as the greeting! She added sparkle with some glittery glimmer paste and our new Starry Sky Stencil!
Audrey arranged the cute Unicorn Picnic on a beautiful watercolor background that coordinates with the unicorns' colorful manes and tails! Her birthday wishes are stamped on a Fancy Wavy Banner!
Elena's Unicorn Picnic card is so charming! I love how the little fairies are shaking sprinkles on the ice cream sundae! She added a cute sentiment from the Ready Set Shake set!
This cool and colorful design by Latisha features some fun new products! Can you spot them? I love how she tied a bow with the new Unicorn Tail Sparkle cord!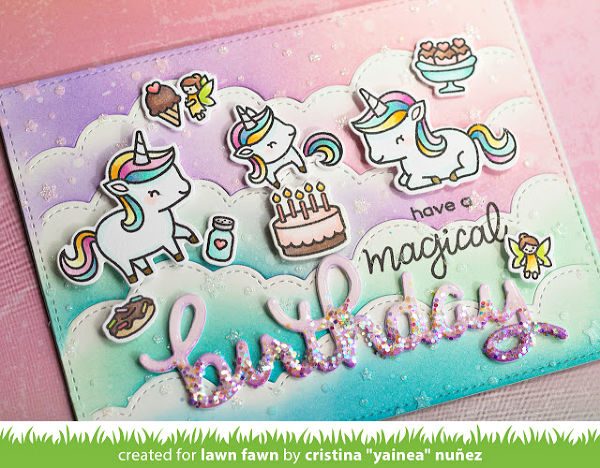 Yainea's unicorns are celebrating a glittery birthday in the clouds! I love how she added so much pretty color to the Puffy Cloud Backdrop! For the greeting she used the new Scripty Birthday with lots of Chunky Glitter! The birthday cake is from the Elphie Selfie set.
Sweet and magical definitely describe Tammy's amazing Unicorn Picnic! She added pretty ombré color to the Sparkle Backdrop and filled the sky with the Stitched Rainbow!
Rebecca's bright white clouds are the perfect backdrop for the rainbow colored unicorns and friends! I love how the Puffy Cloud Backdrop allows you to tuck the images between the clouds!
There are rainbows and unicorns everywhere on Grace's gorgeous slimline card! She stenciled the clouds in soft pastels then added glittery stars with the Starry Sky Stencil.
Melissa created an adorable Unicorn Picnic design on a square card! The gorgeous stenciled clouds and gold embossed greeting are really special details!
For her unique design, Eloise de-constructed the Puffy Cloud Backdrop and assembled the pieces on a Sparkle Backdrop! I love how she backed a few of the sparkles with white cardstock, they look like they are twinkling!
Kara's slimline design wishes a magical day to the recipient of this fun card! She combined the unicorns with Build-A-Castle, Tiny Fairy Tale and Little Dragon! The Puffy Cloud Backdrop looks gorgeous die cut from Pixie Dust Sparkle cardstock!
How cute is Latisha's simply sweet circle scene! The unicorns are so pretty in pink and the Unicorn Tail Sparkle cord adds special detail!
Elise cleverly turned the Puffy Cloud Backdrop upside down to use as treetops for this adorable Oh Gnome card! She used the branches from A Bug Deal as the tree trunks, such a fun idea!
Mindy's card is bringing cheerful hugs along with the cute unicorn! The colorful Sparkle Backdrop and Stitched Rainbow set the scene beautifully!

Now, we have a little video to introduce Unicorn Picnic and show some fun ways to use this magical new set including a Reveal Wheel card. I hope you enjoy it! You can watch it below or click HERE to watch at our YouTube channel.
Thanks for watching!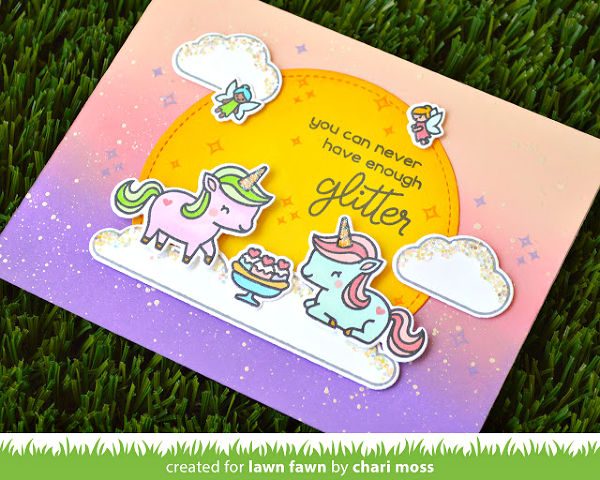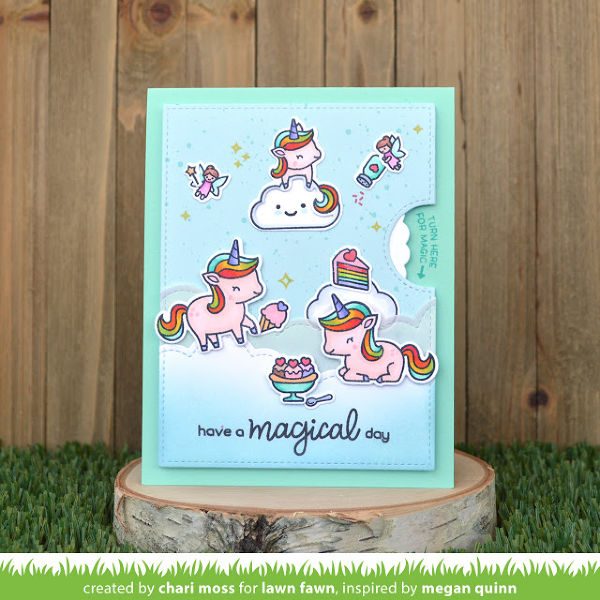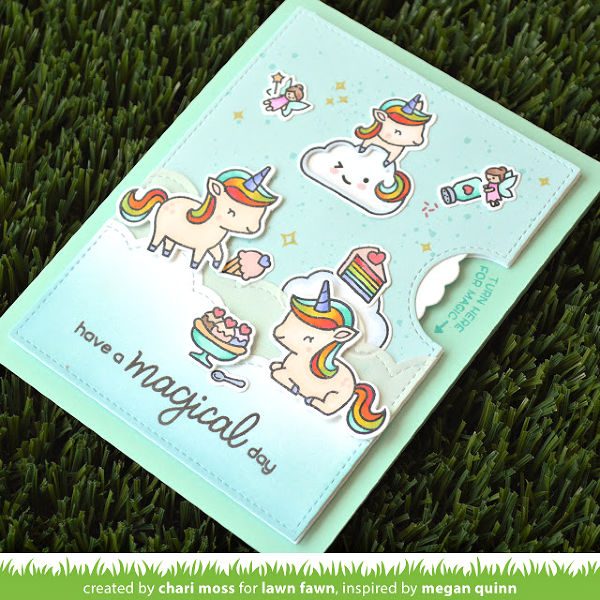 And now we have a video to introduce Sparkle Backdrop and Puffy Cloud Backdrop to inspire some heavenly ideas for using these dies! You can watch it below or click HERE to watch at our YouTube channel.
Thank you for watching!

I hope you have enjoyed this look at Unicorn Picnic, Reveal Wheel Unicorn Picnic Add-On, Sparkle Backdrop and Puffy Cloud Backdrop! Tomorrow we have another fun set to show you! For now, though, it's giveaway time! Leave us a comment telling us your favorite way to add sparkle to your cards by June 24th at 5:00pm ET, and we will randomly pick one winner for this stamp set! (If you already own this set and win, you can choose another set!) Make sure to come back tomorrow, Friday, June 19th for our next inspiration week post!
Thank you so much for all of your excitement for our inspiration week, we love your comments, tweets, Facebook, Instagram and YouTube messages! Every one puts a big smile on our faces! We think Lawn Fawn fans are the best in the world. We love you guys!
Supplies:
Summer 2020 Release products will be available on June 25th!
Unicorn Picnic + coordinating dies
Reveal Wheel Unicorn Picnic Add-On
Puffy Cloud Backdrop: Portrait
Puffy Cloud Backdrop: Landscape
Sparkle Backdrop

Thanks for visiting!
Have an amazing day!