Hello and Welcome to Lawn Fawn's April Inspiration Week! We will be showcasing 5 new stamp sets, along with 7 of our new stand alone dies and our Really Rainbow Scallops paper collection! All of our Spring 2019 Release is available now at lawnfawn.com and at your favorite craft stores!!
We already have two places you can leave comments to win:
Our Big Giveaway Post!
Our Rain or Shine Before 'n Afters post!
AND today's post too!
Today is our showcase of Llama Tell You and Year Nine and their coordinating dies! Looking for a cute mini set? No ProbLlama! This little llama is sure to make you smile! Let's taco 'bout how cute this stamp set is! This little taco was created to celebrate Lawn Fawn's ninth birthday! Woohoo! The design team has made the most amazing samples! We also have two videos at the end showcasing some fun ways of using these fun new sets!
Our adorable Year Nine taco is the star of Chari's festive birthday card! She created a fun greeting by combining the cute punny sentiment with Big Scripty Words! I love how she added the "grass" from our packaging to look like lettuce, so clever!
Yainea's Llama Tell You card has some South American flair from the watercolor painted pattern in the background! Pairing the llama with Stuck on You is a great idea, and I love how she layered the little scene on Say What? Gift Tags!
Let's taco 'bout Audrey's adorable Year Nine birthday card! The red Gingham Backdrops add so much festive fun to this happy card!
Megan's desert scene combining Llama Tell You and Stuck on You is perfect for this fantastic Reveal Wheel design! The Spanish greetings in the Reveal Wheel Sentiments set are a fun addition!
Elena created a super cute Year Nine scene in a Reverse Stitched Scalloped Circle Window! The Gotta Have Gingham paper adds lots of charm along with the Simple Wavy Banner and white embossed birthday sentiment!
Latisha's Llama Tell You design is so whimsical with multiple llamas in fun colors! The hearts in matching colors look great on the Spiffy Speckles background!
Nicole made an adorable birthday card on a Cross-Stitched Circle for a really unique design! I love how she added the piñata from Year Seven to the mix!
Kay's charming card design features the tree from Shadow Box Card Park Add-On! I love the sweet scene she made for the llama framed by a Scalloped Rectangle!
Elise created a custom sentiment by combining the Year Nine punny greeting with letters from Finley's ABCs! I love how she used the Really Rainbow Scallops paper, it mimics the shape of the taco!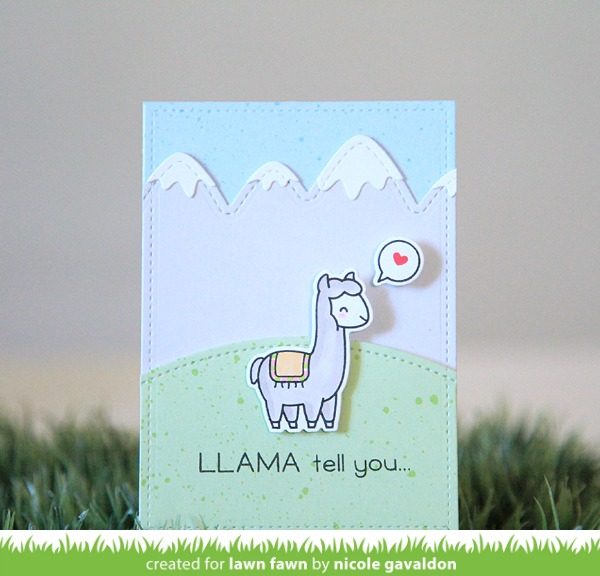 Nicole used our Stitched Mountain Borders to create an Andes Mountains scene so our cute llama would feel at home! I love that she added the heart in the speech bubble included in the Llama Tell You mini set!
Lynnette's birthday card is just so happy! The Spring Fling paper looks like colorful confetti in the background! The Happy Birthday Line Border is such a fun addition!
Elise crafted another super cute sentiment with Finley's ABCs and a Simple Wavy Banner! She created a fun window card with an Outside In Stitched Circle then she did some mirror-stamping to give the Llama Tell You critter a buddy!
Megan's birthday card is so colorful and fun! She used the Peekaboo Backdrop to create cute little scenes with the sloths from Hang In There and Slow Down and Enjoy! Some little cuties from Toadally Awesome are in attendance at this super cute taco party!
I love how Lynnette framed this fun desert scene with pretty Spring Fling papers! She used a Stitched Scalloped Border to add a sweet detail! Stuck on You and Llama Tell You play so nicely together!
Kay's Year Nine design is so gorgeous! I love the bright colors, the circle shape and that red scalloped circle looks amazing with the green and yellow Spring Fling papers!
Elena created an amazing background for the Llama Tell You llama using a Fancy Lattice Backdrop and an inlaid die cut technique! The unique window opening is found in our Shadow Box Card Park Add-On. I recreated this beautiful card in the video below!
Megan's Magic Picture Changer birthday card is all kinds of fun! I'll show you how to make this fabulous card in the Intro to Year Nine video below!
Now, I have a video for you introducing Llama Tell You and sharing some fun things you can do with this set. I hope you enjoy it! Watch it below or click HERE to watch it at our You Tube channel.
Thanks so much for watching!
And now here's a video for you introducing Year Nine with some great ideas for using this set. I hope you enjoy it! Watch it below or click HERE to watch it at our You Tube channel.
Thanks for watching!
I hope you have enjoyed this look at Llama Tell You and Year Nine. Tomorrow we have another fun set to show you! For now, though, it's giveaway time! Leave us a comment telling us your favorite way to celebrate your birthday by April 19th at 5:00pm ET, and we will randomly pick one winner for this stamp set! (If you already own this set and win, you can choose another set!) Make sure to come back tomorrow, Tuesday April 16th for our next inspiration week post!
Thank you so much for all of your excitement for our inspiration and release week! Your comments, tweets, facebook, instagram and YouTube messages mean so much to us! Every one puts a big smile on our faces! We think Lawn Fawn fans are the best in the world. We love you guys!
And now we have our 3 winners of the Charge Me Up: Light Up Cardmaking Kits!
Day 1 winner is…Melissa Martin!
Day 2 winner is…Francesca Calcagnino!
Day 3 winner is…Joan C!
Congratulations to the winners! Please email us at fawnies(at)lawnfawn(dot)com with your name, mailing address and which prize you won!
Supplies:

Thanks for visiting!
Have an amazing day!