Hello and welcome to Lawn Fawn's Summer 2019 Inspiration and Release week! On May 16th our 10 new stamp sets and coordinating dies and 24 new standalone die sets will be for sale at your favorite store and at www.lawnfawn.com! Woohoo!
We already have one place you can leave comments to win:
Our Big Giveaway Post!
AND today's post too!
Today is our showcase of On the Beach and its coordinating dies, and Hammock and Trees! It's beach day anytime of the year with this cute set! These stamps are great for birthdays, retirement, and summertime cards. It's also great for end-of-the-year cards for teachers! Chill out and relax in this cute hammock, nestled between two palm trees! The hammock can be used on its own, or you can tuck a critter into it to build a scene. The design team has made the most amazing samples! We also have a video at the end showcasing some fun ways of using these fun new sets!
Critters enjoying lazy days at the beach is what On the Beach is all about! Megan added gorgeous puffy clouds and a snack shack with a rainbow awning from the Coaster Critters set!
The cute On the Beach bear looks so comfortable in this colorful scene featuring Hammock and Trees! Kay added some glittery blue waves with Stitched Simple Wavy Borders and the Spring Sparkle Cardstock pack!
Elena created the look of a sandy beach with Stitched Hillside Borders and kraft cardstock artfully ink splattered! This looks like a popular spot On the Beach!
Yainea used Stitched Cloud Backdrop with surf and sand to set the scene for beach fun! She paired the smaller Coaster Critters fox with the reclining fox in On the Beach to show sweet family time by the shore!
Audrey's beautiful watercolor sand and sky are the perfect backdrop for her adorable beach scene! In addition to the towel, umbrella, beach ball, tropical drink and sunscreen from On the Beach she used a sweet new pooch from Say What? Pets! Simply Puffy Cloud Frames and a sun from Hello Sunshine fill in the sky!
Melissa M framed her fun beach scene with a silhouette using our new Tropical Backdrop! The beautiful setting sun was created using our new Sunray Backdrop!
Who wouldn't want to spend their birthday relaxing On the Beach? Elise created a pair of birthday cards with the help of Bannertastic and our new Just Stitching Double Rectangles to frame the happy critters!
A beach towel, umbrella and a tropical beverage are all the elements of a relaxing summer! Send a friend happy summer wishes with Latisha's lovely watercolor design!
Megan's interactive card uses the Let's Toast Pull-Tab Add-On to lift the hammock with the lounging bear as it sways on the breeze! To fill out her scene she brought in the baby bear from Beary Happy Holidays and a trumpet playing bear from Critter Concert. She replaced the trumpet with a fruity beverage, complete with paper umbrella! The perfect greeting is provided by Happy Summer Line Border, new with the Summer 2019 Release!
Jenn used pretty pastels and a Stitched Hillside Backdrop to create some beachy vibes for her beach-loving fox! I'm sure Jenn is picturing herself in this summery scene!
Melissa S is sending summery birthday wishes with some cute beach vignettes using Peekaboo Backdrop and On the Beach!

Now, I have a video for you introducing On the Beach and Hammock and Trees, sharing some fun things you can do with this set. I hope you enjoy it! Watch it below or click HERE to watch it at our You Tube channel.
Thanks so much for watching!
I hope you have enjoyed this look at On the Beach and Hammock and Trees! Tomorrow we have another fun set to show you! For now, though, it's giveaway time! Leave us a comment telling us about your favorite beach by May 15th at 5:00pm ET, and we will randomly pick one winner for this stamp set! (If you already own this set and win, you can choose another set!) Make sure to come back tomorrow, Friday May 10th for our next inspiration week post!
Thank you so much for all of your excitement for our inspiration and release week! Your comments, tweets, Facebook, Instagram and YouTube messages mean so much to us! Every one puts a big smile on our faces! We think Lawn Fawn fans are the best in the world. We love you guys!
Supplies:
Summer 2019 products will be available May 16th
On the Beach + coordinating dies
Hammock and Trees die set
Stitched Simple Wavy Borders
Say What? Pets
Tropical Backdrop
Sunray Backdrop
Just Stitching Double Rectangles
Happy Summer Line Border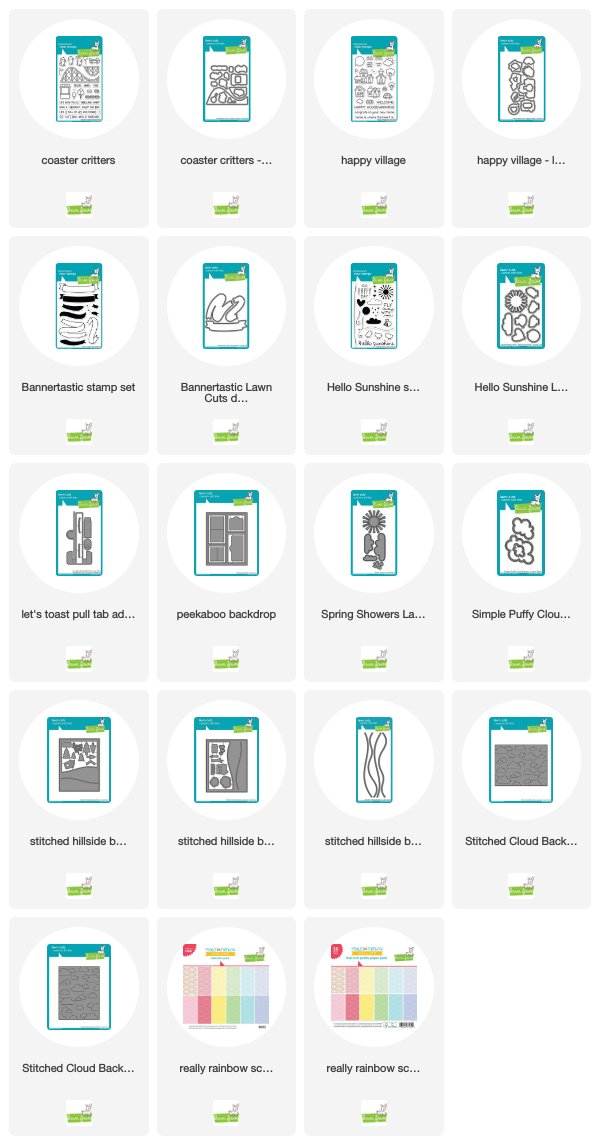 Thanks for visiting!
Have an amazing day!