Hello and welcome to Lawn Fawn's October 2019 Inspiration Week! Our Fall/Winter 2019 Release is now available at your favorite store and at www.lawnfawn.com! Woohoo!
Our sweet friend, Lea Lawson is having her second annual Layton's Legacy Card Drive and Fundraiser to honor her sweet Layton's memory. There are many ways that you can get involved, I hope you will visit Lea's blog today after 7AM CST to learn more. Please click HERE. Thank you so much!

We already have four places you can leave comments to win:
Our Big Giveaway Post!
Our How You Bean? Christmas Cookie Add-On post!
Our Winter Narwhal post!
Our Shadow Box Card Mountain Add-On post!
AND today's post too!
Today is our showcase of Winter Wavy Sayings and Tiny Gift Box Holiday Hats Add-On! These versatile wavy sentiments coordinate well with the banner in Flippin' Awesome, as well as the banners from Simple Wavy Banners and Fancy Wavy Banners. These little holiday hats fit nicely on Tiny Gift Box critters!
The design team has made the most amazing samples! We will share the Intro Videos for this week's featured sets at a later time. It's been a very busy Fall so far, we hope to have the videos ready for you soon. Mindy has a fun video tutorial for you today!
Our new Tiny Gift Box Holiday Hats Add-On includes a witch hat for Halloween, a Santa hat for Christmas and a cute beanie! Rebecca added them to her deer, cat and fox Tiny Gift Boxes!
Audrey's card is absolutely gorgeous! I love how she pieced together green patterned papers from different collections for the Outside In Stitched Christmas Tree! The addition of the Snowfall Backdrop in kraft with a frame of Zig Zag Rectangle in red looks so amazing! She added a traditional greeting from Winter Wavy Sayings on a Fancy Wavy Banner!
Megan's card is so whimsical and fun! I love how she combined Christmas Fishes with Christmas Dreams in this adorable underwater holiday scene! The Winter Wavy Sayings sentiment looks great white embossed on a Simple Wavy Banner!
Tammy created an amazing card that combines lots of fun sets! She took the cute deer off the Tiny Gift Box and added them to a Foursquare Backdrop: Landscape with the adorable Holiday Hats! She brought in lots more fun with the Mini String of Lights, a speech bubble from Say What? Pets with a tiny sentiment from Say What? Christmas Critters and the Winter Wavy Sayings Happy Holidays greeting!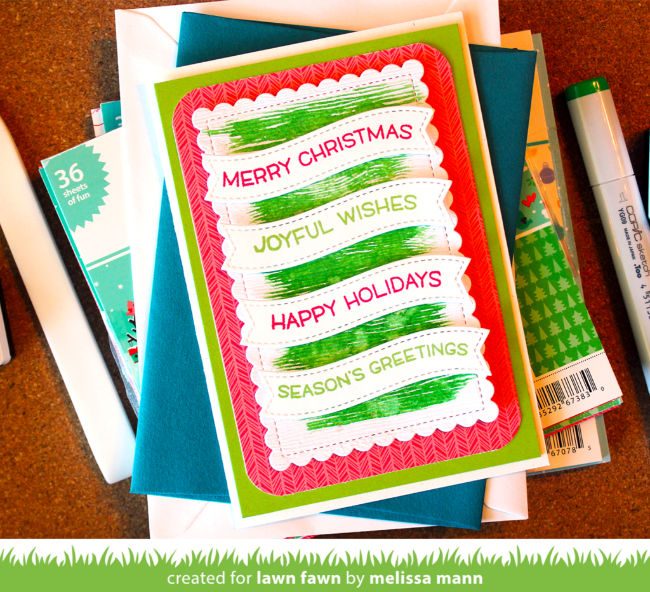 I love how Melissa M built her gorgeous card around the Winter Wavy Sayings sentiments! She stamped them is holiday colors on Fancy Wavy Banners then popped them up on a brightly painted Woodgrain cardstock panel die cut using the Flippin' Awesome Add-On! (You could also use an Outside In Stitched Scalloped Rectangle Stackable). So much cleverness!
Lynnette's super fun Yeti or Not scene includes a Stitched Hillside Border in Pixie Dust Sparkle cardstock and Stitched Mountain Border cut from Paper Bag cardstock! A Snow Day Remix panel makes a great snowy background with a Winter Wavy Saying filling in the open space!
Grace used our new Hoodie Remix paper to create cute Say What? Gift Tags! How cute will these look on gift package this Christmas? I love how she decorated the tags with Stitched Snowflakes, hearts and the Tiny Gift Box Holiday Hats Add-On!
So many great ideas for gift tags today! Elise used the Build-A-House, Christmas Add-On and Tiny Christmas to make some festive gift tags! The Winter Wavy Sayings, white heat-embossed on Black Licorice Simple Wavy Banners send a sweet message!
Melissa's Tiny Gift Box cat is not scary at all in her sparkly witch's hat! She combined the Cat Add-On and Holiday Hats Add-On sets to make a super cute mini treat box that's also a decoration!
Latisha's beautiful card is so brilliant! I love how she used the Snowboots Remix pattern from our Snow Day Remix papers as the base for her clever design! She added fun elements with our Little Music Notes and snowflakes cut from Rainforest Cardstock! She stamped "Let it Snow" from Winter Wavy Sayings 3 times to encourage a sing-a-long! I have the song on a loop in my brain now, how about you?
Elena's cheery Christmas card makes me smile! I love the Stripey Backdrop in red and white that reminds me of peppermint candies! The cute little images from Ho-Ho-Holidays, Holiday Helpers, Say What? Christmas Critters and Ready Set Snow are anchored with a wavy banner stamped with a Winter Wavy Saying! Such a fun holiday design!
Lynnette's Halloween card gets a bit of spookiness from the Build-A-House Halloween Add-On and a spooky cool color palette! The cute little ghost is wearing a sparkly witch hat from Tiny Gift Box Holiday Hats Add-On! The Happy Halloween Line Border coordinates perfectly die cut from purple glitter cardstock!
I hope you have enjoyed this look at Winter Wavy Sayings and Tiny Gift Box Holiday Hats Add-On! Tomorrow we have another fun set to show you! For now, though, it's giveaway time! Leave us a comment telling us if you have started making holiday cards by October 16th at 5:00pm ET, and we will randomly pick one winner for these sets! (If you already own these sets and win, you can choose another set!) Make sure to come back tomorrow, Wednesday October 16 for our next inspiration week post!
And now we have Mindy's clean and simple Mice on Ice holiday cards video tutorial! You can watch the video below or click HERE to watch at our YouTube channel.
Thanks so much for watching!
Thank you so much for all of your excitement for our October Inspiration Week! Your comments, tweets, Facebook, Instagram and YouTube messages mean so much to us! Every one puts a big smile on our faces! We think Lawn Fawn fans are the best in the world. We love you guys!
Supplies:

Thanks for visiting!
Have an amazing day!