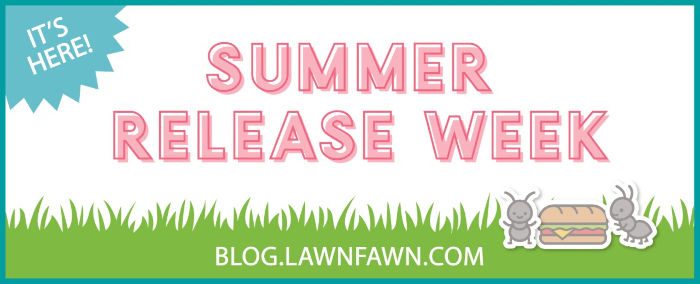 Hello and welcome to Lawn Fawn's Summer 2020 Inspiration and Release week! On June 25th our 8 new stamp sets and coordinating dies, 15 new standalone die sets, 3 new stencils and all of our exciting new products will be for sale at your favorite store and at www.lawnfawn.com! Woohoo! Until then we will have fun posts with design team projects, videos, and giveaways!
We already have five places you can leave comments to win:
Our big giveaway post!!
Unicorn Picnic, Puffy Cloud Backdrop, Sparkle Backdrop post!
Magic Iris Camera Add-On, Magic Iris Camera Pull-Tab Add-On post!
Ocean Shell-fie and Ocean Wave Stencils post!
Crazy Antics post!
AND today's post too!
Today is our showcase of Little Dragon, Tiny Fairy Tale, Build-A-Castle and Brick Stencil! Step into your own fairy tale with these fun stamps, dies and stencil!

The design team has made the most amazing samples! We also have two videos at the end showcasing some fun ways of using these new sets! Remember to click on the person's name to see all of the details and leave these wonderful DT girls some comment love!
Elena created an amazing castle in the clouds on this magical card! The soft colors of the Build-A-Castle look so pretty in the pink Puffy Cloud Backdrop: Portrait! The characters from Tiny Fairy Tale complete this special scene!

Yainea's fairy tale scene includes the cute little princess flying away on our Little Dragon! The possibilities for magical designs are limited only by your imagination!

Megan created a Reveal Wheel card using the Build-A-House Add-On! Her bold colors and cool rainbow background are so perfect for this adorable Tiny Fairy Tale adventure!

Tammy used our Puffy Cloud Borders to create her version of a castle in the sky! This is one magical fairy tale complete with a princess, brave knight, a fairy and the cute Little Dragon!

Elise created a magical birthday card with the help of our new Scripty Birthday die cut from sparkle cardstock! She filled in the scene for the Tiny Fairy Tale characters using trees from Happy Village and cute little clouds from the new All the Clouds set!

Latisha's clean and simple design could not be any cuter! Her coloring brings the Little Dragons to life! I love the soft stenciled clouds in the background!

Mindy's bright and happy Build-A-Castle scene is the stuff of magical sweet dreams! I love how she filled in the sky with the Stitched Rainbow!

Kara's incredible coloring brings this awesome sand castle to life! The bear family is having a fun day at the beach and papa bear doesn't mind being buried in the sand by the kids! Kara found the all bears in Coaster Critters, Car Critters, Smooth Sailing and On the Beach! The beautiful waves in the background are stenciled with our new Ocean Wave Stencils!

Lynnette's card is so magical! I love the glittery sparkle cardstock on the castle! She included the princess, knight and wizard from Tiny Fairy Tale along with Little Dragon!

Grace designed a sweet scene featuring Build-A-Castle for the knight to tame the Little Dragon! I love how she used color on the Puffy Cloud Backdrop to create green ground and puffy pink clouds!

Audrey used kraft cardstock along with the Brick Stencil to create this adorable sand castle! Her sunny beach scene also includes Palm Trees, Stitched Wave Borders and images from Life is Good and Hello Sunshine!

How amazing is Chari's emerald city made with our Build-A-Castle and Stitched Rainbow die sets! I love how she used the Brick Stencil to create the yellow brick road!

Latisha created a beautiful castle in the clouds using the Puffy Cloud Backdrop! The cute Tiny Fairy Tale characters are right at home in the pretty brick stenciled castle.

Kara's fairy tale castle is so fun nestled among the Pixie Dust Sparkle clouds! I love how she colored the unicorns in rainbow colors to coordinate with the Stitched Rainbow and Little Dragon in the sky above!

Now we have a video to introduce Little Dragon and show some fun ways to use this new mini set! You can watch it below or click HERE to watch at our YouTube channel.
Thanks for watching!

Now we have a video to introduce Build-A-Castle, Tiny Fairy Tale and Brick Stencil and show some fun ways to use these new sets! You can watch it below or click HERE to watch at our YouTube channel.
Thank you for watching!
I hope you have enjoyed this look at Little Dragon, Build-A-Castle, Tiny Fairy Tale and Brick Stencil! Tomorrow we have another fun set to show you! For now, though, it's giveaway time! Leave us a comment telling us your favorite fairy tale by June 24th at 5:00pm ET, and we will randomly pick one winner for this set! (If you already own this set and win, you can choose another set!) Make sure to come back tomorrow, Tuesday, June 23rd for our next inspiration week post!
Thank you so much for all of your excitement for our inspiration week, we love your comments, tweets, Facebook, Instagram and YouTube messages! Every one puts a big smile on our faces! We think Lawn Fawn fans are the best in the world. We love you guys!
Supplies:
Summer 2020 Release products will be available on June 25th!
Little Dragon and coordinating dies
Tiny Fairy Tale and coordinating dies
Build-A-Castle
Brick Stencils

Thanks for visiting!
Have an amazing day!