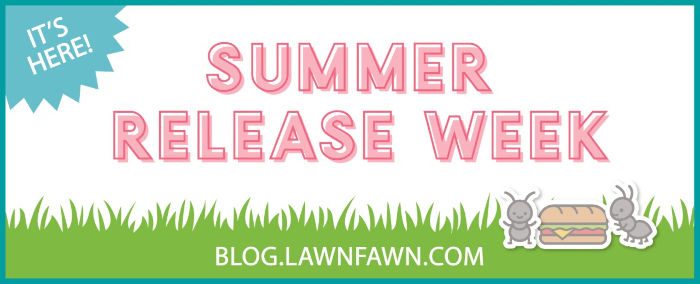 Hello and welcome to Lawn Fawn's Summer 2020 Inspiration and Release week! On June 25th our 8 new stamp sets and coordinating dies, 15 new standalone die sets, 3 new stencils and all of our exciting new products will be for sale at your favorite store and at www.lawnfawn.com! Woohoo! Until then we will have fun posts with design team projects, videos, and giveaways!
We already have two places you can leave comments to win:
Our big giveaway post!!
Unicorn Picnic, Puffy Cloud Backdrop, Sparkle Backdrop post!
AND today's post too!
Today is our showcase of Magic Iris Camera Add-On and Magic Iris Camera Pull-Tab Add-On! The Magic Iris Camera Add-On set can be used on its own to create a cute camera. You can also pair this set with Magic Iris to create a fun, interactive camera with a functioning iris! Pair Magic Iris Camera Pull-Tab set with Magic Iris Camera Add-On to create a cute "instant" camera! You can also turn it into an interactive pull tab card by adding the Let's Toast Pull Tab Add-On!
The design team has made the most amazing samples! We also have a video at the end showcasing some fun ways of using these new sets! Remember to click on the person's name to see all of the details and leave these wonderful DT girls some comment love!
Elena combined the new Magic Iris Camera Add-On with the Camera Pull-Tab Add-On to create this charming camera shaped card! She used the Let's Toast Pull-Tab Add-On to allow the sweet Super Star photo slide up!

Megan's fantastic Magic Iris interactive camera design has an adorable octopus posing for an Ocean Shell-fie!

Latisha used the Camera Add-On on it's own to create this colorful design! She used Sparkle Backdrop to add fun detail to this happy card! The sentiment is from Offset Sayings: Birthday!

Grace's pretty pull tab card also includes a shaker element filled with Chunky Glitter! Her greeting combines Scripty Smile and a cute sentiment from Ocean Shell-fie!

Mindy created a camera to take photos at a tropical locale! She added the sailboat from Smooth Sailing to the center of the Magic Iris and used palm trees to decorate the sunset card front!

Yainea's Jump for Joy fox took a cute photo of his friends enjoying a happy moment in a grassy field! The cute little mouse is found in the Really High Five set! The Scripty Smile die is a perfect partner for the Camera!

I love how Elise used Spring Fling papers to add sweet design to her Magic Iris Camera Add-On! The photo that pops up stars our cute mermaids!

Megan added fun rainbow stripes to her camera along with fun palm trees and a sandy beach! The cute Smooth Sailing "photo" popping up goes perfectly with this tropical design!

The Wild for You animals are taking selfies with Grace's fun Magic Iris Camera Add-On card! I love the colors she chose and the fun birthday sentiment with Oliver's ABCs!

Audrey used a fun color combo for her camera! Her adorable birthday card wishes the recipient a magical birthday with our cute Little Dragon!

Lynnette's fresh and flowery design is perfect for sending super congratulations! I love how she stamped the Fab Flowers to coordinate with the Spring Fling paper!

How pretty is Tammy's pink camera? Those skinny rainbow stripes are such a sweet detail. The Elphie Selfie set is a great companion for the Camera Add-On!

Mindy created another Magic Iris card with the Camera Add-On, this time with some gold sparkle! She has our new little octopus from Ocean Shell-fie in focus!

Rebecca's pink camera looks so pretty on this adorable card! More Ocean Shell-fie friends pop-up in the developing photo! We will be introducing this adorable new stamp set tomorrow!

Megan's super cute camera design doesn't have an interactive element but it certainly has a lot of personality! I love how she used sentiments from Elphie Selfie to carry through the camera theme!

And now we have a video to introduce Magic Iris Camera Add-On and Magic Iris Camera Pull-Tab Add-On and show some fun ways to use these new die sets! You can watch it below or click HERE to watch at our YouTube channel.
Thanks for watching!
I hope you have enjoyed this look at Magic Iris Camera Add-On and Magic Iris Camera Pull-Tab Add-On! Tomorrow we have another fun set to show you! For now, though, it's giveaway time! Leave us a comment telling us your favorite photo subject by June 24th at 5:00pm ET, and we will randomly pick one winner for this die set! (If you already own this set and win, you can choose another set!) Make sure to come back tomorrow, Saturday, June 20th for our next inspiration week post!
Thank you so much for all of your excitement for our inspiration week, we love your comments, tweets, Facebook, Instagram and YouTube messages! Every one puts a big smile on our faces! We think Lawn Fawn fans are the best in the world. We love you guys!
Supplies:
Summer 2020 Release products will be available on June 25th!
Magic Iris Camera Add-On
Magic Iris Camera Pull-Tab Add-On

Thanks for visiting!
Have an amazing day!