Hello and welcome to Lawn Fawn's Fall & Winter 2021 Inspiration and Release week! On September 16 our 13 new stamp sets and coordinating dies, 19 new standalone die sets, two new paper collections and all of our exciting new products will be for sale at your favorite store and at www.lawnfawn.com! Woohoo!
We already have seven places you can leave comments to win:
Our Big Giveaway Post!
You Autumn Know, Scripty Autumn Sentiments & Fall Leaves Backdrop post!
Flippy Flappy post!
Purrfectly Wicked post!
Magic Iris Fall Leaves Add-On post!
Sweater Weather Remix post!
Pumpkin House & Lovely Latte post!
AND today's post too!
Today is our showcase of Fall Leaves Background Stencils and Stencil Paste! Create a beautiful, leafy background with this set of two Fall Leaves Background stencils. They work well with a variety of crafty techniques, including our new Stencil Pastes! Add dimension and lots of fun to your projects with our Stencil Pastes in White, Silver, Gold, Pearl, Fairy Dust and Glow-in-the-Dark!
The design team has made the most amazing samples! We also have two videos at the end to showcase our featured products.



Audrey used cheerful Autumn colors to stencil the Fall Leaves Background over the Stitched Rectangle panel. Then she used our Stencil Paste in Fairy Dust to stencil iridescent details over the top!


Tammy colored the leaves in from You Autumn Know in rich seasonal colors to match the her pretty Fall Leaves stenciling in the background!


Yainea got really creative and stenciled the Fall Leaves in white Stencil Paste on top of patterned paper! The sweet polka dots from Sweater Weather Remix 6×6 look so pretty behind the stenciled leaves!


Latisha used soft warm colors to stencil an all-over pattern on her lovely card. I love the sweet Hearts and Stars Skinny Tag that she stenciled to match!


Elena designed a Giant Thanks So Much that is so beautiful! She stenciled the leaves in a neutral color palette on kraft and then added the red berries for a pop of color!


I just love the look of Fairy Dust Stencil Paste over the stenciled Fall Leaves Background! Mindy's colors are so lovely and the delicate Scripty Autumn Sentiment is the perfect greeting!


Lynnette used White Stencil Paste over Canned Pumpkin cardstock and it looks so amazing! I love the dramatic look of the black Scalloped Rectangle that frames her beautiful design!


I love how Grace switched thing up, putting the Purrfectly Wicked cats in a sweet Fall scene! She matched the colors of the stamped leaves perfectly to the Fall Leaves stenciled in the background! This card is just so sweet!


Melissa's Giant Thank You card is so pretty in beautiful pink! She used White Stencil Paste on a pink panel that she softened with the use of scalloped panel of vellum! The die cut greeting adds so much sparkle!


Kara added lots of elegant shine to her Lovely Latte design using Stencil Paste in gorgeous gold! It looks so amazing with the rich colors she used for the leaves and the background inking!


Wow, just look at that gorgeous sparkle and shine! Elise created so much dimension on her card by adding Stencil Paste in Pearl on some of the leaves and Fairy Dust on others. The Scripty Autumn Sentiment stands out white-embossed on Black Licorice cardstock!


Here's another look at the glow-in-the-dark Stencil Paste on a spooky Purrfectly Wicked interactive Magic Picture Changer!



Intro Videos
And now we have a video to introduce our 6 new Stencil Pastes! Chari will create 7 awesome cards while sharing ideas for getting the most out of our Stencil Paste! You can watch the video below of click HERE to watch at our YouTube channel.
Thank you so much for watching!



Fairy Dust Stencil Paste on Snowflake Background Stencils


Pearl and Gold Stencil Paste with Plaid Stencils


Stencil Paste – Silver on Blue Jay cardstock with Giant Let it Snow


White Stencil Paste with emboss resist inking and Magic Iris Snowflake Add-On


White Stencil Paste dyed with Peacock Reinker, so beautiful!


Lights on and lights off with Stencil Paste Glow-in-the-Dark


And now we have a video to introduce Fall Leaves Background Stencils. We will share tips and ideas so you will get more out of these versatile stencils. You can watch the video below or click HERE to watch at our YouTube channel.
Thanks so much for watching!


I hope you have enjoyed this look at Fall Leaves Background Stencils and Stencil Pastes! Tomorrow is Release Day and we will also announce our giveaway winners! For now, though, it's giveaway time! Leave us a comment telling us if have ever used stencil paste on a card project by September 15th at 5:00pm ET, and we will randomly pick one winner for this set! (If you already own this set and win, you can choose another set!) Make sure to come back tomorrow, Thursday September 16th for our Release Reveal and some more fun product introductions!
Thank you so much for all of your excitement for our inspiration and release week! Your comments, tweets, Facebook, Instagram and YouTube messages mean so much to us! Every one puts a big smile on our faces! We think Lawn Fawn fans are the best in the world. We love you guys!
Supplies:
Fall & Winter 2021 products will be available on September 16th!
Fall Leaves Background Stencils
Stencil Paste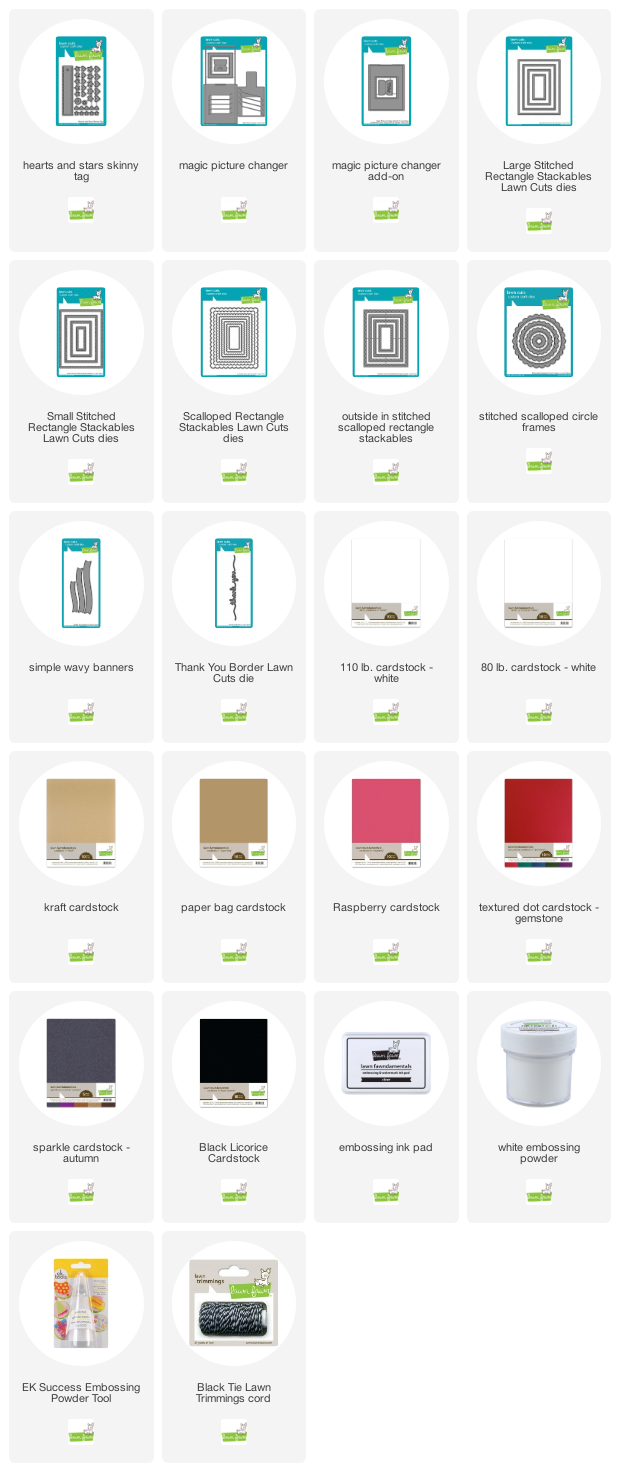 Thanks so much for visiting!
Have an amazing day!