Hello and welcome to October Inspiration Week! Our Fall & Winter 2023 Release is available now at your favorite store and www.lawnfawn.com! Woohoo! This week we will finish the introductions by highlighting the rest of the new sets with design team projects, intro videos, and giveaways!
Daily Giveaway
We already have two places you can leave comments to win:
Big giveaway post!
Winter Sprigs Background Stencils & Holly Leaves Border post!
AND today's post too!
Introducing!
Today is our showcase of Magic Iris Holly Wreath Add-On! Pair this add-on set with Magic Iris and Magic Iris Add-On to create a project featuring a beautiful holly wreath frame that opens to reveal a surprise! This Lawn Cuts die set can also be used on its own to create a pretty frame.
Design Team Inspiration
The design team has made the most amazing samples! We also have a video at the end showcasing this versatile Lawn Cuts die set! Remember to click on the person's name to see all of the details! And leave these wonderful DT girls some comment love!



Yainea's gorgeous design puts the Magic Iris Holly Wreath in the spotlight! With a mix of green shades and bright red berries, the wreath pops against the Favorite Flannel Eggnog paper. Then she stepped up the design with a glittery gold holiday greeting from Winter Big Scripty Words Lawn Cuts!



Grace created a Magic Iris card that is just so creative! She used the Magic Iris Camera Add-On along with the new Holly Wreath Add-On to make a colorful, interactive Christmas card.



The Magic Iris opens to a snowy scene featuring Shadow Box Card Mountain Add-On!



I love how Marine used Foursquare Backdrop: Portrait to create a shaker card! It looks like a frosty four-paned window with the pretty Magic Iris Holly Wreath in the center! She added some shine with the hot-foiled Winter Big Scripty Words greeting!



Blue, green and pink is such fresh and fun color palette on Megan's lovely card! She layered a Stitched Party Banner in London Fog Favorite Flannel over a Woodgrain Backdrop panel. Then she colored the Magic Iris Holly Wreath before layering it with Scripty Joy!



The pretty red and green of the Holly Wreath look so beautiful layered on a kraft Scalloped Rectangle! Caly stamped the greeting from Magic Holiday Messages in Lobster ink to match the Peppermint Cord. I love how she layered the colorful wreath with more layers of Pixie Dust and vellum. It adds fullness while keeping the wreath simple.



To create her beautiful card, Elise layered 2 wreaths cut from Cilantro and Noble Fir. Then she added the mini poinsettias for a pop of color. Adding even more interest, she cut the extra holly leaves from glittery green cardstock! She added a Magic Holiday Message, before popping up the wreath on the neutral Favorite Flannel background!



Melissa's Magic Iris Holly Wreath Add-On card is so festive! She filled out the wreath with Holly Leaves Border before adding it to the Peppermint Stripes Backdrop!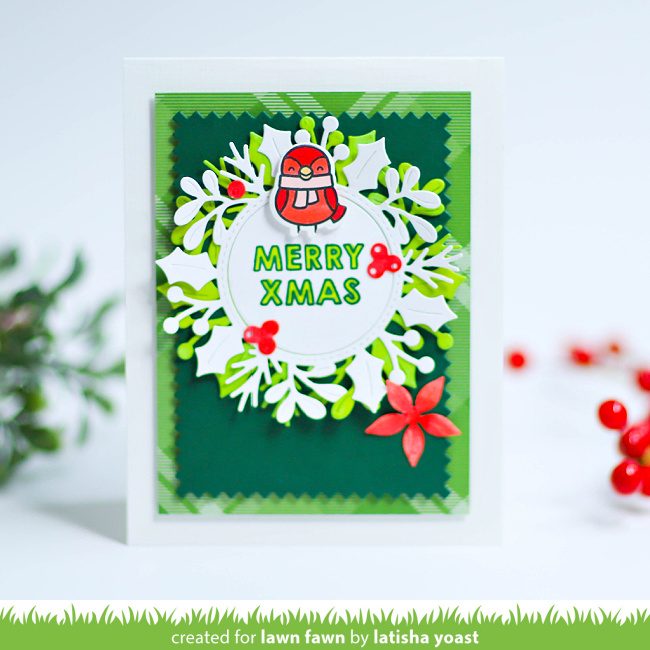 Latisha gave her design a touch of whimsy by adding one of the cute Winter Birds! She used bright, colors for even more fun!



Tammy's design is so much fun! She created a cute Build-A-Snowman to add to the wreath and it looks so cute! She finished the card with a Stitched Snowflake Backdrop and a Scripty Merry greeting!



The traditional red and green of Lynnette's wreath is enhanced with lots of pretty gold accents! She used gold metallic cardstock, gold embossing and Spiffier Speckles paper to add an elegant look!



Audrey's card really makes me smile! I love the red and white Simple Stripes background and the Copic-colored holly wreath! She added a greeting from Magic Holiday Messages which she colored in with festive red and green colors!


Intro Video
Now, I have a video to introduce Magic Iris Holly Wreath Add-On! We will share beautiful ways to use this new set. I hope you enjoy it! You can watch the video below or click HERE to watch at our YouTube channel.

Thank you so much for watching! Are you inspired?




Giveaway Time
I hope you have enjoyed this look at Magic Iris Holly Wreath Add-On! Tomorrow we will have another fun set to show you! But for now, it's giveaway time! Leave us a comment telling us your favorite Magic Iris add-on set by October 25th at 5:00pm ET. We will randomly pick one winner for this set! (If you already own this set and win, you can choose another set!) Make sure to come back tomorrow, Monday, October 23 for our next inspiration week post!
Thank you so much for all of your excitement for our inspiration week! We love to read your comments, tweets, Facebook, Instagram and YouTube messages! Every one of them puts a big smile on our faces! We think Lawn Fawn fans are the best in the world. We love you guys so much!
Supplies:

Thanks so much for visiting, have an amazing day!