Hello and welcome to October Inspiration Week! Our Fall & Winter 2023 Release is available now at your favorite store and www.lawnfawn.com! Woohoo! This week we will finish the introductions by highlighting the rest of the new sets with design team projects, intro videos, and giveaways!
Daily Giveaway
We already have three places you can leave comments to win:
Big giveaway post!
Winter Sprigs Background Stencils & Holly Leaves Border post!
Magic Iris Holly Wreath Add-On post!
AND today's post too!
Introducing!
Today is our showcase of Embroidery Hoop Snowflake Add-On! This add-on works with the Embroidery Hoop to create a lovely, embroidered snowflake or spooky spiderweb! Use it with all our amazing embroidery themed stamps and dies in the Embroidery Collection. For more ideas, check out these downloadable patterns.
Design Team Inspiration
The design team has made the most amazing samples! We also have a video at the end showcasing some fun ways to use these new sets! Remember to click on the person's name to see all of the details! And leave these wonderful DT girls some comment love!



Elise's embroidered snowflake is the perfect inspiration for her "let it snow" themed card! She added Mini Snowflakes in Pixie Dust Sparkle cardstock and Pearlescent Vellum to the Favorite Flannel panel. Then she created a custom greeting with Giant Let it Snow to finish this lovely design!



Grace's pastel stitched snowflake is so gorgeous! She also combined the Embroidery Hoop Snowflake Add-On with Giant Let it Snow! The little stitchers from Sew Very Mice are so cute as they embroider more pretty snowflakes!



Chari's brilliant Halloween card is proof that a snowflake isn't always a snowflake! Especially when it's a spider web with a cute googly-eyed spider! In addition to the spiders from Cute Cobweb, she used Dotted Moon and Stars Backdrop. A combination of Henry's ABCs and Riley's ABCs create a greeting that is so punny and fun!



Latisha framed her embroidered snowflake with a glittery Embroidery Hoop before layering it on a beautifully stenciled Winter Sprigs Background!



Audrey stenciled snowflakes all over the background before adding her beautiful embroidered snowflake! Then she added some Mini Snowflakes and a Winter Big Script Words greeting.



I love how Caly added tiny seed beads to her embroidered snowflake! And she added a shiny sequin in the center also! Then she gave her design lots more shine with Spiffier Speckles paper and hot foiled Winter Big Scripty Words!



Lynnette used wintry shades of blue to stitch her snowflake, framing it with a Blue Jay Embroidery Hoop. Then she created a snowy scene with Simply Celebrate Winter snowmen and shiny gold Mini Snowflakes!



Here Rebecca and I used a pretty pink and teal color combination with a hot foiled Starry Sky Background!


Intro Video
Now, I have a video to introduce Embroidery Hoop Snowflake Add-On! We will share some fun ways to stitch this new add-on set. I hope you enjoy it! You can watch the video below or click HERE to watch at our YouTube channel.

Thank you so much for watching!




Giveaway Time
I hope you have enjoyed this look at Embroidery Hoop Snowflake Add-On! Tomorrow we will have another fun set to show you! But for now, it's giveaway time! Leave us a comment telling us what made you smile today by October 25th at 5:00pm ET. We will randomly pick one winner for this set! (If you already own this set and win, you can choose another set!) Make sure to come back tomorrow, Tuesday, October 24 for our next inspiration week post!
Thank you so much for all of your excitement for our inspiration week! We love to read your comments, tweets, Facebook, Instagram and YouTube messages! Every one of them puts a big smile on our faces! We think Lawn Fawn fans are the best in the world. We love you guys so much!
Supplies: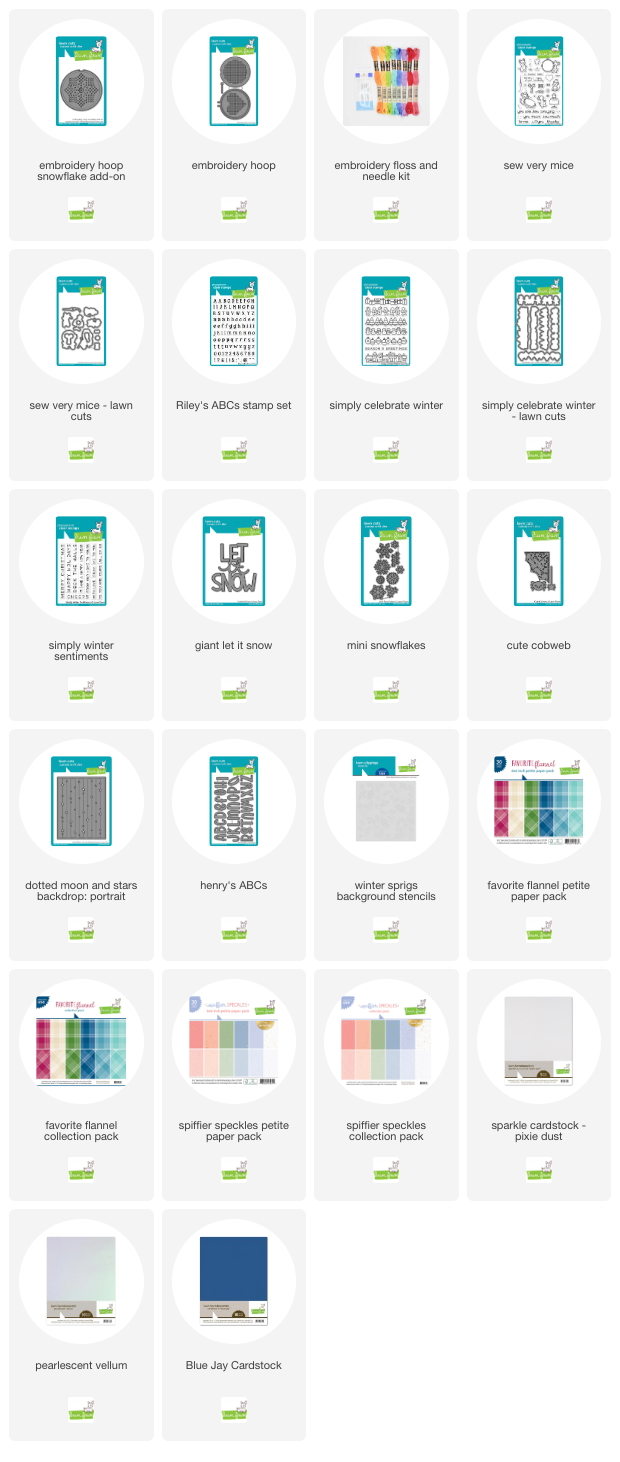 Thanks so much for visiting, have an amazing day!