Hello and Welcome to Lawn Fawn's April Inspiration Week! We will be showcasing 5 new stamp sets, along with 7 of our new stand alone dies and our Really Rainbow Scallops paper collection! All of our Spring 2019 Release is available now at lawnfawn.com and at your favorite craft stores!!
We already have five places you can leave comments to win:
Our Big Giveaway Post!
Our Rain or Shine Before 'n Afters post!
Our Llama Tell You and Year Nine post!
Our Rainy Backdrop and Stitched Umbrella post!
Our Really Rainbow Scallops, Feel Better Line Border, Mother's Day Line Border post!
AND today's post too!
Today is our showcase of Reveal Wheel Butterfly Add-On and Layered Butterflies! Pair this butterfly window with Reveal Wheel for a fun, Spring and Summer interactive project! Layer different colors of cardstock to create beautiful layered butterflies! You can also make a side-profile butterfly by trimming or folding the wings in half, and adhering the side-facing body and antenna on top. The design team has made the most amazing samples! We also have video at the end showcasing some fun ways of using these fun new products!
This lovely card by Elise is so magical with the colorful Layered Butterflies in flight! She used Spring Sparkle cardstock to die cut the lacy butterflies! I love the beautiful clouds; she used Puffy Cloud Borders as a stencil to create the blue sky!

Megan used a flowery oldie, Flutter By to create this gorgeous garden for her Reveal Wheel card! The Reveal Wheel Butterfly Add-On changes colors as you spin the wheel.
I love how Elena made the side-facing butterfly in the Layered Butterfly set and placed it on the border created with a Stitched Hillside Border! It's so pretty in the pink papers from Really Rainbow Scallops and Spiffy Speckles!
Latisha's glittery gold butterflies are the stars of this gorgeous clean and simple design! A simple Wavy Sayings greeting and some sweet golden sequins are the perfect way to finish this lovely card!
Audrey's lovely get well card features the Layered Butterflies inlaid in a Stitched Windy Backdrop! I love how the pretty pink Spring Fling paper shows through the lacy butterfly wings!
Kay used the pretty colors in the Spring Sparkle cardstock pack to create this trio of beautiful Layered Butterflies! With a lovely background and sweet message from Butterfly Kisses this is a quick-to-make card that is filled with lots of love!
The gold sparkle butterflies add delicate detail on Melissa's gorgeous scrapbook page! She used Large Wreath branches to add lovely foliage!
The adorable Butterfly Kisses critters appear to be watching Lynnette's Reveal Wheel Butterfly Add-On changing colors! This sweet card will certainly encourage someone to have a happy day!

Audrey's gorgeous card proves that an all-white design can be anything but plain! She used a Fancy Lattice Backdrop and a Fancy Wavy Banner along with Pixie Dust Sparkle cardstock to give her monochromatic design lots of interest!
Using black cardstock for the butterfly outline and as a border for the main panel adds lots of drama and interest to Megan's beautiful card design! For even more detail she used a Cross-Stitched Rectangle to frame her design!

Yainea's card is so stunning! She backed the white Layered Butterflies with vellum to which she added some subtle color! The rainbow watercolor background is the perfect canvas for the beautiful butterflies!
Lynnette's cheerful card combines Layered Butterflies with Mother's Day Line Border! The bright yellow of the Spring Fling paper is a lovely contrast to the Peacock card she used for the die cuts!
Now, I have a video for you introducing Reveal Wheel Butterfly Add-On and sharing some fun things you can do with this new add-on die set! I hope you enjoy it! Watch it below or click HERE to watch it at our You Tube channel.
Thanks so much for watching!
And now I have a video to introduce Layered Butterflies! I'll show you how to use this die set and share some great ideas for using it! You can watch it below or click HERE to watch at our YouTube channel.
Thanks for watching!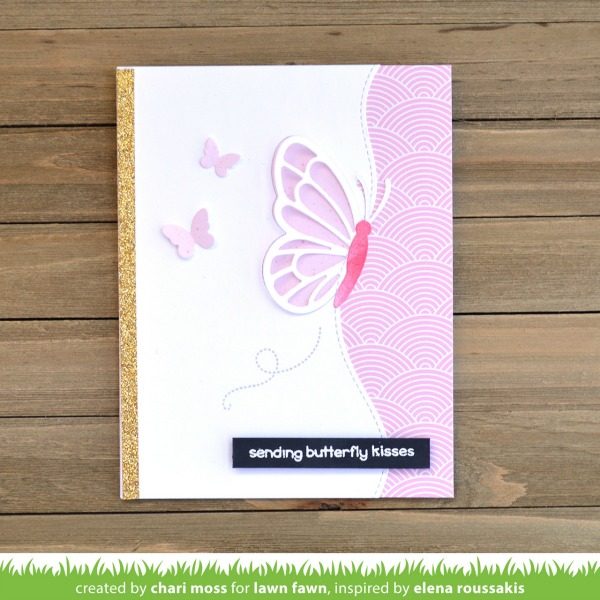 I hope you have enjoyed this look at Reveal Wheel Butterfly Add-On and Layered Butterflies. Tomorrow we have another fun set to show you! For now, though, it's giveaway time! Leave us a comment telling us what made you smile today by April 19th at 5:00pm ET, and we will randomly pick one winner for this set! (If you already own this set and win, you can choose another set!) Make sure to come back tomorrow, Friday April 19th for our next inspiration week post!
Thank you so much for all of your excitement for our inspiration and release week! Your comments, tweets, facebook, instagram and YouTube messages mean so much to us! Every one puts a big smile on our faces! We think Lawn Fawn fans are the best in the world. We love you guys!
Supplies:

Thanks for visiting!
Have an amazing day!